We're feeling a severe case of on one hand/on the other hand with this story here.
Backstory: St. Petersburg, Florida's American Freedom Distillery has come out with its Horse Soldier Wheated Bourbon Whiskey, named for the horseback-mounted Green Berets that patrolled Afghanistan in the days after September 11, 2011.
On one hand: The bourbon makers are the same men who bravely defended the country, and we hope will find success in this 8-year, American oak-aged bourbon, described by the distillers as "robust and powerful flavor with a long, crisp finish of dark stone fruits, vanilla and oak."
On the other hand: The glass bottle, according to The Manual, was forged from a mold made of steel salvaged the World Trade Center. Umm... we've got nothing.
G/O Media may get a commission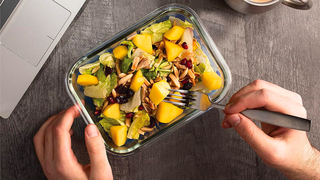 20% off
Superior Glass Round Meal Prep Containers - 6 pack
On one hand: Select bottles are signed by commanders of the Horse Soldier unit and a collective coin commemorating their service to the country.
On the other hand: World Trade Center steel, umm, well...
On one hand: A portion of sales will benefit the upkeep and maintenance of the American's Response Memorial, located near the 9/11 Memorial in Lower Manhattan.

On the other hand...