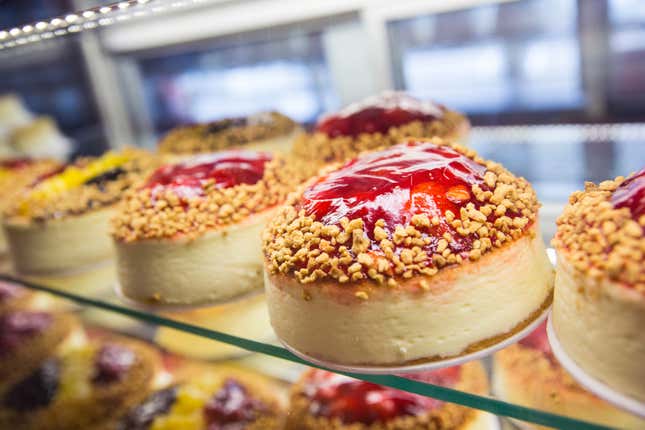 Alabama — Lane Cake: This layer cake is filled with a rich mixture of raisins, pecans, coconut, and bourbon.
How To Dispose Of Cooking Grease The Easy Way After Frying
Alaska — Baked Alaska: A dome of ice cream encased in meringue is quickly baked to create a warm, toasted exterior while maintaining a frozen core.
Arizona — Sopaipillas: With roots in Mexican and Native American culinary traditions, these deep-fried pastries are served hot and dusted with powdered sugar or cinnamon.
Arkansas - Possum Pie: It's made with a chocolate cookie crust, layers of cream cheese, whipped cream, and chocolate pudding, all topped with a sprinkling of pecans.
California - Avocado Chocolate Mousse: This creamy vegan treat combines ripe avocados with cocoa powder and sweeteners.
Colorado - Palisade Peach Cobbler: Made with sweet, juicy peaches and a buttery, golden crust, this dessert epitomizes the state's agricultural heritage.
Connecticut - Snickerdoodles: The popular cookie has a cinnamon-sugar coating and soft, chewy texture.
Delaware - Peach Pie: This classic pie bursts with peaches encased in a flaky crust.
Florida - Key Lime Pie: Made with a buttery graham cracker crust and a filling of key lime juice, this signature tropical dessert is sweetened with condensed milk.
Georgia - Peach Cobbler: The Georgia classic features juicy peaches nestled beneath a buttery, cinnamon-infused crust.
Hawaii - Haupia: This traditional Hawaiian coconut pudding is made with coconut milk, sugar, and cornstarch.
Idaho - Potato Candy: This regional sweet treat is made from mashed potatoes, powdered sugar, vanilla extract, and a filling of peanut butter or other ingredients.
Illinois - Deep-Dish Pizza: While not traditionally considered a dessert, it's an anytime, anywhere indulgence thanks to its signature thick, buttery crust.
Indiana - Sugar Cream Pie: Also known as Hoosier Pie, it's creamy filling is made from sugar, cream, and a hint of vanilla.
Iowa - Puppy Chow: Also known as Muddy Buddies, this sweet snack is made with Chex cereal coated in a mixture of chocolate, peanut butter, butter, and powdered sugar.
Kansas - Sour Cream and Raisin Pie: Picture a creamy filling of sour cream, raisins, eggs, sugar, and warm spices, all nestled in a flaky crust.
Kentucky - Bourbon Balls: These bite-sized confections feature a mixture of crushed cookies, chopped nuts, powdered sugar, and, of course, bourbon.
Louisiana - Beignet: The iconic deep-fried pastry dusted with powdered sugar is synonymous with the state's vibrant French and Creole culinary roots.
Maine - Blueberry Pie: Made with sweet, juicy blueberries and a flaky crust, this classic pie showcases the natural beauty and flavors of Maine's wild blueberries.
Maryland - Smith Island Cake: Cherished for its unique tiered construction, it consists of thin, individually baked cake layers stacked with sweet frosting.
Massachusetts - Boston Cream Pie: This delectable dessert consists of two layers of sponge cake filled with creamy vanilla custard and topped with a rich chocolate glaze.
Michigan - Cherry Pie: A local favorite thanks to its flaky crust and sweet-tart filling.
Minnesota - Tater Tot Hotdish: While not a traditional dessert, this comfort food casserole, typically made with ground beef, vegetables, cream soup, and topped with a layer of crispy tater tots, is nonetheless a cozy favorite.
Mississippi - Mississippi Mud Pie: This rich, creamy dessert is known for its indulgent layers of chocolate pudding, whipped cream, and cookie crumb crust.
Missouri - Gooey Butter Cake: An easy, all-occasion staple thanks to it chewy, buttery base and sweet, gooey filling.
Montana - Huckleberry Pie: This pie features a sweet-tart filling made from handpicked huckleberries and a flaky crust.
Nebraska - Runza: While not a traditional dessert, it's a popular yeast dough pocket typically filled with seasoned ground beef, onions, and cabbage.
Nevada - Basque Cake: This simple yet delightful cake features a dense, almond-flavored batter that is moist and subtly sweet, a nod to the region's Basque immigrant community.
New Hampshire - Whoopie Pie: These sandwich-like treats consist of two soft, cake-like cookies with a sweet filling, typically made with marshmallow fluff.
New Jersey - Saltwater Taffy: This chewy and colorful confection has been a beloved treat in beach towns like Atlantic City for generations.
New Mexico - Sopaipillas: Tracing their roots back to the state's rich Hispanic heritage, these deep-fried pastries are known for their puffy, pillow-like texture and are often served with a drizzle of honey or powdered sugar.
New York - Cheesecake: The state's undisputed dessert of choice thanks to its dense, creamy texture, graham cracker crust and syrupy fruit topping.
North Carolina - Sweet Potato Pie: Made with creamy, spiced sweet potato filling and a flaky crust, this pie has a rich and comforting flavor that resonates with locals.
North Dakota - Knoephla: While not traditionally considered a dessert, Knoephla is a hearty dumpling soup often made with potatoes, flour, and cream. In some variations, Knoephla can be sweetened with sugar, cinnamon, and a drizzle of honey, turning it into a warm and comforting dessert.
Ohio - Buckeye Candy: These sweet and salty bite-sized confections are made by dipping peanut butter balls into melted chocolate, leaving a small portion of the peanut butter visible.
Oklahoma - Fried Pies: These handheld treats consist of a sweet fruit filling, such as apple, cherry, or peach, enclosed in a flaky pastry crust and deep-fried to golden perfection.
Oregon - Marionberry Pie: OThis delectable pie features a sweet-tart filling made with juicy marionberries and a buttery crust.
Pennsylvania - Whoopie Pie: These sandwich-like treats consist of two soft, cake-like cookies with a sweet filling, often made with marshmallow fluff.
Rhode Island - Frozen Lemonade:This refreshing summertime staple is made by blending fresh lemon juice, sugar, and ice until smooth and slushy.
South Carolina - Coconut Cake: Made with layers of tender cake, fluffy frosting, and plenty of shredded coconut, this dessert offers a tropical twist and captures the essence of the state's coastal beauty.
South Dakota - Kuchen: This traditional German pastry consists of a sweet yeasted dough base topped with various fillings like fruit, custard, or streusel.
Tennessee - Banana Pudding: This comforting dessert features layers of sliced bananas, vanilla pudding, and vanilla wafers, all topped with a generous dollop of whipped cream.
Texas - Pecan Pie: With its buttery, flaky crust and a gooey filling made with pecans, eggs, and brown sugar, this pie represents Southern comfort and Texas pride.
Utah - Jell-O Salad: While not a traditional dessert, this colorful dish typically combines gelatin, fruit, and sometimes even marshmallows or whipped cream.
Vermont - Maple Creemee: This soft-serve ice cream made with pure maple syrup is a popular summertime treat that pays homage to Vermont's renowned maple syrup industry.
Virginia - Peanut Pie: This pie features a sweet and nutty filling made with roasted peanuts, sugar, and eggs, baked to perfection in a flaky crust.
Washington - Marionberry Cobbler: This delectable dessert features a juicy marionberry filling topped with a golden biscuit-like crust, creating a perfect balance of tartness and sweetness.
West Virginia - Pepperoni Roll: While not a traditional dessert, the Pepperoni Roll is often consumed as a handheld snack or a quick meal. It features soft yeast bread filled with pepperoni, creating a savory and satisfying snack.
Wisconsin - Kringle: The Danish-inspired Kringle is a flaky, oval-shaped pastry often filled with various sweet fillings such as fruit, nuts, or cream cheese.
Wyoming - Cowboy Cookies: These oversized cookies are typically made with oats, chocolate chips, nuts, and coconut, providing a satisfying combination of textures and flavors.