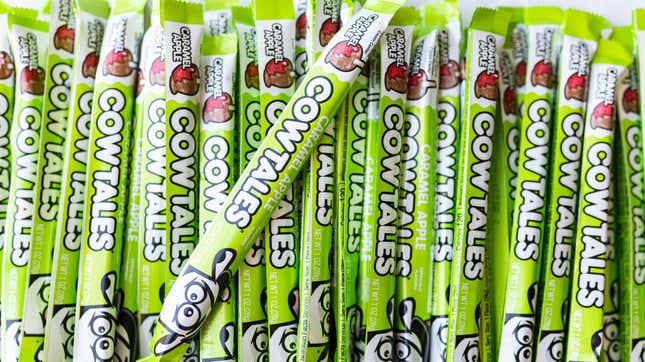 Is there a food that you're reasonably certain you consume more than anyone else on the planet? Something under-celebrated, of which you're the world's biggest fan? That's me with Goetze's Candy Company. Though the brand name might not sound familiar, you've definitely seen and probably tasted its confections, Caramel Creams and Cow Tales, many times before. And while the product has been around for 105 years, the brand has just announced that one of its best varieties will now be available year-round: Caramel Apple Cow Tales.
Dr. Pepper Strawberries & Cream Is Tearing Us Apart
This flavor debuted all the way back in 1993, but like so many other caramel apple products that deserve our love, was only offered seasonally each year in the fall. Now, the company will add Caramel Apple Cow Tales to the permanent lineup, as they so deserve.
The exterior of this candy is the same classic rope of chewy caramel, but the center is fire engine red and carries a strong apple flavor, evoking the taste of everyone's favorite lollipops (you know the ones, from Tootsie Roll). There just aren't enough candies leaning on this delicious combo, which plays with two different layers of sweetness (mild and tart) to deliver a satisfying afternoon pick-me-up. Or morning coffee companion, as the case may be.
Another flavor has also been added to the year-round lineup: Strawberry Smoothie Cow Tales, previously a springtime exclusive. These are delicious in their own right, a little heavier on the "cream" flavor than the Strawberry Caramel Creams of yore (whose praises are sung here). The Caramel Apple edges out this flavor only slightly in my estimation, thanks to a heavy concentration of intense apple flavor, which, when done right, will always be a little more exciting than strawberry.
Both of these newly permanent flavors will join a venerable lineup, all of which are worth checking out if you haven't already:
Original
Oreo
Caramel Brownie
Caramel Apple
Strawberry Smoothie
Each flavor has inspired some clever recipes on the Cow Tales website. Since I'm perfectly happy eating them on their own, the recipe that speaks to me most is the CharCandy Board.
One of the beautiful things about candy is that, since it's a mass-market product by design, its quality and availability tend not to degrade once it experiences a surge in popularity. So I'm free to recommend the best stuff to my heart's content, and I strongly advise you all to bite into a fresh Cow Tale whenever possible. Some candies stick around across the centuries for a reason.