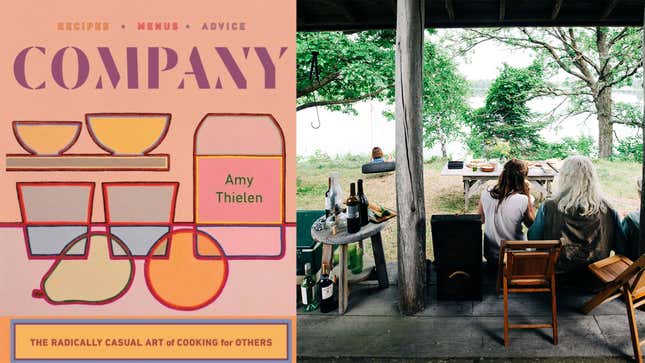 When I began entertaining, Martha Stewart was the undeniable queen of party planning. Her cookbooks, TV show, and, above all, her Martha Stewart Living magazines abounded with advice on how to embrace an upscale lifestyle and curate a fashionable experience for guests.
How To Dispose Of Cooking Grease The Easy Way After Frying
Thing is, many people don't entertain that way, especially if they live outside sophisticated big cities. A lot of home cooks are putting things together at the last minute, raiding local supermarkets, and enlisting friends and family to pitch in. For those people, Amy Thielen has written a fitting cookbook. Company: The Radically Casual Art of Cooking For Others is out today, August 29, from W.W. Norton.
Thielen has plenty of bona fide cooking credentials: She's a two-time James Beard Award winner and was on staff at former and current New York restaurants such as Cru, Danube, and Jean-Georges. She is the author of two other books, including Give A Girl A Knife and The New Midwestern Table.

After burning out on 75-hour weeks, Thielen and her husband, a sculptor, chose to move to rural Minnesota, not far from where her husband grew up. Living four hours from Minneapolis and two from Fargo, North Dakota, Thielen has been practicing a completely different style of feeding her guests that's reflected in the book.

"My friends know that when they come to my house, I will be experimenting," Thielen tells The Takeout. "I will be making something new. Nothing will be ready. I take pleasure in cooking when people are there. I do this for fun."
Where modern menus are often made up of small dishes or tasting portions, Thielen says she cooks "from a homey, classic manner." 
"I have a main and some sides, and some are plain, in a sense," says Thielen, whose book is meant to be different from other cookbooks "that have one flashy salad." "Not every side dish can be so bold. A menu needs its rhythm."
In fact, one of her basic salad recipes is for Invisible Vinaigrette (see below), which serves as a culinary backup singer to other items on the menu.
Thielen's book is divided into four parts: dinner parties, holiday celebrations, casual buffets, and what she calls perennial parties that you can put on any time. But that doesn't mean her celebrations are ordinary. Where else are you going to find suggestions for a Nordic supper, the likes of which you might eat after an afternoon of cross-country skiing?
For that menu, Thielen suggests sardines on wheat crisp bread with lardo; yellow pea soup with spareribs (the pork goes in the soup); warm wilted spinach with caramelized celery root and crisp shiitakes; and coffee with chartreuse liqueur and smoked almond praline. Her overall aim is to make her recipes "feel like a family dinner."
Speaking with author Liz Williams on her podcast Tip of the Tongue, Thielen says some of her neighbors entertain in their garages during the winter. The reason, she told me, is that "no one wants to take off their boots."
Still, Thielen says she has some recipes that are "pretty aspirational," including a crispy smashed fried chicken breast with gin and sage jus, and a French coiled strudel cake called pastis du quercy whose instructions and photographs fill four pages.
She says readers of her other books and newspaper column are "really good cooks" who enjoy the challenge of an afternoon in the kitchen. Her friends are also good sports willing to try what she has on that evening. Ideally, yours are too.
---
Green Salad With Invisible Vinaigrette
From Company: The Radically Casual Art of Cooking For Others by Amy Thielen
For the dressing:
2 teaspoons salt-​packed capers
2 small garlic cloves
½ cup chopped fresh parsley
¼ teaspoon fine sea salt, plus more to taste
Freshly ground black pepper to taste
1 tablespoon chopped fresh dill
1½ teaspoons Dijon mustard
3 tablespoons fresh lemon juice
2 teaspoons red wine vinegar
½ cup extra-​virgin olive oil
1 tablespoon wate
For the salad:
10 cups salad greens (a mixture of pale lettuce hearts and dark green baby greens—​like arugula, mizuna, or baby spinach), washed and spun-​dry
4 yellow inner celery stalks, thinly sliced, leaves and all
2 tablespoons finely minced shallots or thinly sliced scallions
Fine sea salt and freshly ground black pepper
To make the vinaigrette, put the capers into a small bowl and cover with warm water, giving them a quick squeeze to express their salt. Soak for at least 20 minutes, then drain and rinse.
Combine the garlic and capers, and pound or chop until finely mashed together, using a mortar and pestle, or the flat side of your knife. Add the parsley, salt, and pepper and pound or chop until the parsley begins to express dark green juice, then add the dill and do the same. Stir in the mustard, lemon juice, vinegar, and olive oil and taste for salt, adjusting as needed. Stir in the water and set the dressing aside to meld and come together.
For the salad, combine all the washed spun greens in a large salad bowl, tearing any larger leaves into bite-​sized pieces, and add the thinly sliced celery and shallot or scallions. Season lightly with salt and pepper and toss with just enough of the dressing to coat. Serve immediately. Serves 10-12 as a side dish.

Reprinted with permission from W.W. Norton.