Update, January 5, 2021: Although 2020 was the Year of the Rat, the good fortunes of famously beleaguered spokesrat Charles Entertainment Cheese seem to have been delayed until 2021. Yet here we are in a new year, after months of uncertainty and peril for the Chuck E. Cheese restaurant/arcade chain, with good tidings to share: CEC Entertainment has completed its financial restructuring and, according to Nation's Restaurant News, emerged from chapter 11 bankruptcy.
"[We] look forward to beginning a new chapter as a stronger and healthier company well positioned to execute on our long-term goals," said CEC Entertainment CEO David McKillips in a statement. "Under new ownership, and with the leadership of our new Board, the CEC team is excited to continue delivering memories, entertainment, and pizza for kids and families around the world for generations to come."
The company has managed to pay off $705 million in debt and, per Nation's Restaurant News, "now has $100 million of liquidity to support operations and growth." But now that the empire's future is bright, what might those new operations and growth opportunities be, exactly? More ghost kitchens? Burning heaps of prize tickets? Please, god, let it be the reinstatement of the Chuck E. Cheese animatronic house band. We could use their nostalgic sound right about now.
Update, September 10, 2020: According to Restaurant Business, after declaring bankruptcy in June, CEC Entertainment has received an additional $200 million in financing from some of its lenders (known as debtor-in-possession financing) to keep Chuck E. Cheese afloat long enough to find a buyer. Yes, the pizza-and-entertainment empire still hopes to make it through this year and host chaotic birthday parties for decades to come.
In a previous legal filing, CEC Entertainment advisors had indicated that the company didn't have enough money to keep operating during the bankruptcy process, which is a crucial part of courting prospective buyers. (How can you prove that you're a moneymaking venture unless you're able to stay open and make money?) Keep in mind, though, that Chuck E. Cheese entered the pandemic with almost $1 billion in debt, and that the "entertainment" dining category has been hit hardest by COVID-19. This makes an additional $200 million sound like a drop in the bucket.
G/O Media may get a commission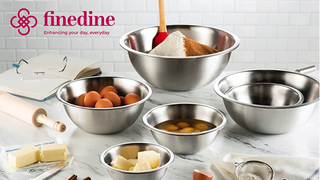 42% Off
Stainless Steel Mixing Bowls (Set of 6)
Still, the company sounds pleased with the arrangement. Confirming that Chuck E. Cheese is still seeking a buyer, CEC CEO David McKillips said in a statement, "This agreement and financing demonstrate our creditors' confidence in our go-forward business plan and will enable CEC to complete this financial restructuring process in a timely manner." Let's hope so, or else there are going to be some particularly large rats set loose in America's streets.
Update, June 25, 2020: Reuters has reported that CEC Entertainment, parent company of Chuck E. Cheese, filed for Chapter 11 bankruptcy today, following several moves to fight its way out from under $900 million in debt. However, as COVID-19 restrictions are lifted around the country, Chuck E. Cheese locations are nevertheless back up and running wherever local government guidelines are allowing such businesses to operate; according to Reuters, 266 of Chuck E. Cheese's 527 U.S. locations are currently open for business, and the company expects to "maintain ongoing operations in the locations throughout the Chapter 11 process." Could the triumphant return of Munch's Make Believe Band breathe new life into this struggling empire? Something for CEC executives to consider.
Original post, June 9, 2020: A few weeks ago, it was discovered that Chuck E. Cheese was masquerading as "Pasqually's Pizza" on Grubhub in an attempt to make any sort of money whatsoever during the pandemic, since its entire business model is gathering hundreds of people into a cramped, poorly ventilated space and encouraging them to touch hundreds of surfaces covered in trace amounts of child snot. Since mid-March, all 610 Chuck E. Cheese's locations have been shuttered and their employees have all been laid off—save the occasional skeleton crew making pizzas for Pasqually's.
Executives at parent company CEC Entertainment are understandably concerned about the concept's future and have made a number of moves to save the beloved institution. In April, CEC said that refinancing, bankruptcy, and restructuring were all on the table. Three different advisory firms were hired to evaluate and assist the brand; according to trade publication Restaurant Business, Chuck E. Cheese currently has over $900 million in debt and has drawn down $105 million on its revolving credit facility. Recently, The Wall Street Journal reported that the company has been talking to lenders in hopes of securing a $200 million loan. And in order to ensure that none of Chuck E. Cheese's valuable executives jump ship during these trying times, they will be receiving retention bonuses for their loyalty.
Under the conditions of Chuck E. Cheese's Key Employee Retention Program, only executives that agree to remain in their positions for an entire year (or 30 days in the event of a restructuring) will be eligible for the bonus. According to an SEC filing, CEO David McKillips will receive $1.3 million, president J. Roger Cardinale will get $900,000, and James Howell, executive vice president and CFO, will be awarded $675,000. The filing also states that an additional 25 employees have entered into "KERP," as they call it, though no details on compensation were given. CEC Entertainment employs over 17,000 workers who, again, are currently laid off. If and when any of them are rehired, it's hard to guess what Chuck E. Cheese will look like by the time they return to work.