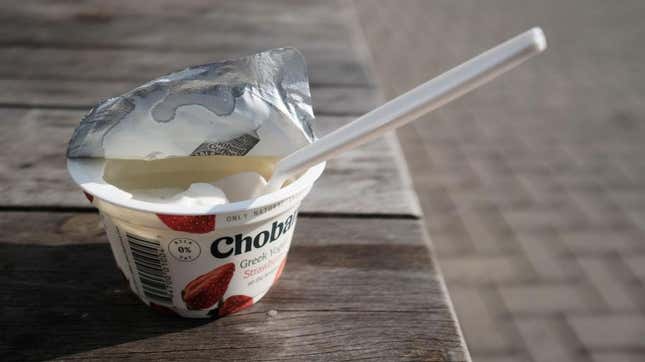 A writer's gig is usually one with a relatively modest salary (I say as I write this), and that's exactly why a job opening posted on LinkedIn this month has gotten so much attention. More than that, it went positively viral. It's a listing for an executive writer's position at Chobani, the Greek yogurt brand—and its specified salary range is nothing short of staggering.
How To Dispose Of Cooking Grease The Easy Way After Frying
The job listing, since removed, sought an Executive Writer at a stated salary of $186,600-$278,400. Forget struggling artist's wages—this vaults the employee upward by several tax brackets. Why does a yogurt company need this?
The job requirements for Chobani's writer position
"PEOPLE IT IS TIME TO START WRITING ABOUT YOGURT," user @likaluca posted on X (formerly Twitter) along with a screenshot of the job posting on LinkedIn.
It's not the typical copywriting job; positions commanding a salary this high usually involve a more specific skillset, and the executive writer position at Chobani is no different. As reported by The Messenger, the role required at least 15 years of experience working in food, politics, or the packaged goods industry, and applicants were required to provide an extensive portfolio of previously published work.
The inclusion of "politics" in the above list might seem at odds with a yogurt brand, but a wordsmith at the executive level sometimes has to work with tricky situations that involve strong communication and conflict resolution on a national scale. For example, in 2013, Chobani was ordered to make adjustments to its packaging in the UK because it was ruled that the text on the product specifiyning that it's made in the U.S. was too small, and customers were misled to believe the Greek yogurt was actually made in Greece. Imagine having to craft a delicate statement addressing that.
Other job duties include writing and editing speeches for Chobani CEO Hamdi Ulukaya for speaking engagements, along with creating messaging strategies for the entire brand. Given the seniority of the role and the size of the company (it's in the top five most consumed brands of yogurt in the United States), the salary starts to make a little more sense.
Apologies if you didn't catch the job listing in time to apply—Chobani's careers page says the position has already been filled. But hey, now we know there's at least one person out there getting paid a comfortable six figures to write about Greek yogurt. That ought to give the rest of us creatives hope.