Perhaps sensing that a few people might choose this, the first week of 2019, as a good time to start a new diet plan, both Chipotle Mexican Grill and SlimFast have decided that this sounds like a fine time to roll out some new, diet-friendly options. More specifically, both companies would like to get a piece of that keto diet thing that the kids are all talkin' about on their social media and their Instagram.
First, if that last bit sounds like an exaggeration, it's not.
While the three most searched-for food topics in 2018 were not keto-related, fully half of the top 10 topics were of the keto persuasion. (The keto diet, for the uninitiated, is a low-carb, high-fat diet that, in theory, shifts your metabolism so that fat gets burned, rather than carbohydrates. Please consult your doctor.) So it's perhaps unsurprising that brands would want to climb aboard that bandwagon during this, the season of resolutions.
So what are the items in question?
Well, Chipotle is actually climbing aboard several bandwagons, today announcing "a new collection of Lifestyle Bowls, just in time for New Year's Resolutions." Said collection includes:
Whole30 Salad Bowl: Romaine lettuce, carnitas, fajita veggies, tomato salsa, and guacamole

Paleo Salad Bowl: Romaine lettuce, barbacoa, fajita veggies, green salsa, and guacamole

Keto Salad Bowl: Romaine lettuce, carnitas, red salsa, cheese, and guacamole

Double Protein Bowl: White rice, black beans, chicken (full portion), steak (full portion), red salsa, romaine lettuce, and sour cream
G/O Media may get a commission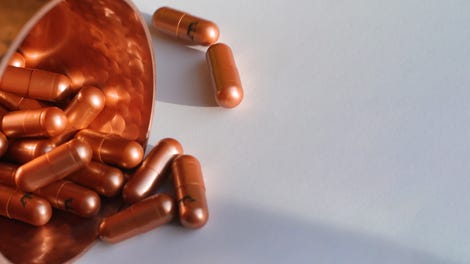 health
The Lyma Supplement
In a press release, Chipotle states that the "first-to-category, diet-driven menu offerings are helping those who have committed to living a healthier lifestyle by making it easy to order delicious bowls that only contain the real ingredients permitted by certain diet regimens."
Meanwhile, SlimFast has found a way to make a high-fat diet sound somewhat less than enticing. SlimFast Keto, a product line "that brings convenience and ease to men and women following the trendy keto diet," includes meal replacement shakes and bars, as well as "fat bomb snacks."
SlimFast Keto provides dieters everything they need to make Keto easy, both at home and on-the-go. The line of eight must-have products includes two meal replacement Shake Mixes (Fudge Brownie Batter and Vanilla Cake Batter), two Meal Replacement Bars (Whipped Peanut Butter and Whipped Triple Chocolate), the indulgent Peanut Butter Cup Fat Bomb snacks, Unsweetened Keto Coffee Creamer, and MCT Oil. SlimFast Keto Ketone Test Strips also help you track results.
We are not nutritionists, or physicians, or any other sort of professional food health people. If there's a diet you like that makes you feel healthier, if it helps you without hurting you at the same time, then we are glad you have found said diet. (This writer's partner had some success with the keto diet, though the success was, as it so often is, temporary.) But we would advise basically everyone everywhere to be suspicious of the big trends, particularly when corporations are looking to use those trends to make fat wads of cash.
We look forward to the announcement of Wendy's Keto Value Menu, Burger King's series of postmodern ads about how the word keto sounds funny when you say it a while bunch of time, and a new McDonald's jingle that goes, "Bah dum pum bah bah, I'm KETO it!"