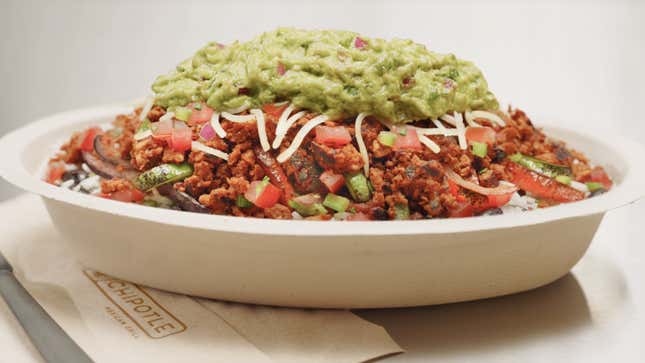 Game 1 of the NBA Finals falls on Thursday, June 1, a not-so highly anticipated matchup between the Miami Heat and the Denver Nuggets. Sure, it has the potential to bring about an underdog victory for Denver, but even more importantly, there's potential for all of us to win a free burrito from Chipotle.

How To Dispose Of Cooking Grease The Easy Way After Frying
We know you're probably not here for The Takeout's expert sports analysis, but if you are, thanks for the vote of confidence. (This writer may be five feet tall, but she'll cross you up any day.) So, let's get to the burrito deal: Per a press release from Chipotle, the fast casual chain has introduced a "Free-Pointer" promotion in anticipation of the NBA Finals.
Here's how it works: When any player in the series—doesn't matter which team—shoots a 3-pointer, Chipotle will tweet out a "text-to-win" code from its @CHIPOTLETWEETS Twitter account. The first 300 people to text the code to 888222 will receive a free entrée from Chipotle. This will happen every time a 3-pointer is scored in every game of the Finals series—limited to 10,500 codes per game.
To reach that 10,500-freebie limit would require quite a few successful 3-point shots in a single game—35, to be exact. On the bright side, as Deadspin notes, the Heat have been the NBA's most efficient 3-point shooting team for the past month and a half, with Denver second in percentage. Chipotle also notes in its press release that over the past decade, the average number of 3-pointers made in men's professional basketball games has increased by nearly 60%. So, there's a solid chance the free burritos will be piling up.
Of course, all of this is a moot point if the players don't actually succeed in their attempts. Will the Nuggets be able to withstand the Heat? Or will they get burnt to a crisp? Will these sports references get any less cheesy? Probably not, but free food is the best distraction, so fingers crossed both teams show up to the Finals ready for a fight.