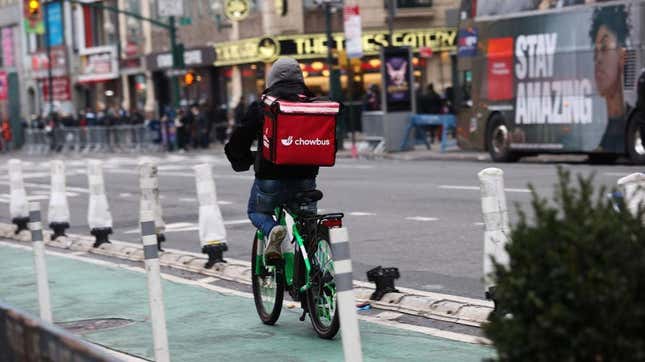 There's a reason New York City famously smells like piss. As a metropolis designed for people perpetually on the go, the Big Apple is noticeably devoid of public bathrooms. Most bathrooms in parks have people living in them (an indictment of our social safety net, but that's another story), and nearly every bathroom in a restaurant or store is explicitly for paying customers only. Starbucks will now let anyone use the bathroom, but the coffee chain is the exception, not the rule.
How To Dispose Of Cooking Grease The Easy Way After Frying
So, what if you're a delivery courier, spending hours on end riding your bike around the city? Where do you stop to use the facilities, catch up on your messages, or just take a break? A tired, thirsty delivery worker doesn't always have a lot of options. Chick-fil-A has noticed this gap and filled it with a new concept, The Brake Room. (Get it? Like a bike brake.)
The company announced via press release that The Brake Room will offer food delivery workers their own space to chill out, charge their phone, use the bathroom, and quench their thirst. And it's open to any courier who passes by, not just the ones delivering Chick-fil-A orders.
"The food delivery community helps to power our businesses, and this is just our small way of showing appreciation for all they do," a Manhattan Chick-fil-A franchisee said in the release. (Is it just me, or do the color scheme and font on the Brake Room's exterior scream KFC?)
So far, the initiative appears to be well-received by the community. A Twitter account called Make Queens Safer lauded the safe haven for cyclists and urged the company to open one in the city's largest borough. Another Twitter user found the gesture "incredibly thoughtful," adding, "I am glad there are companies that treat delivery people with respect and humanity."
The Brake Room is not without its faults, though. Its location on the Upper East Side isn't exactly central, so unless food delivery workers are in a specific set of neighborhoods, they are unlikely to get much use out of it. (Presumably this is intentional to prevent overcrowding. It would be difficult to chill and relax at The Brake Room if it were, say, in the middle of Times Square.) It also closes kind of early at 7 p.m.—a peak food delivery period—and will be closed on Sundays (because Chick-fil-A). As a pop-up, it will only be open through mid-April. Nonetheless, if this trial proves successful, perhaps a more permanent Brake Room with extended hours will open later on.