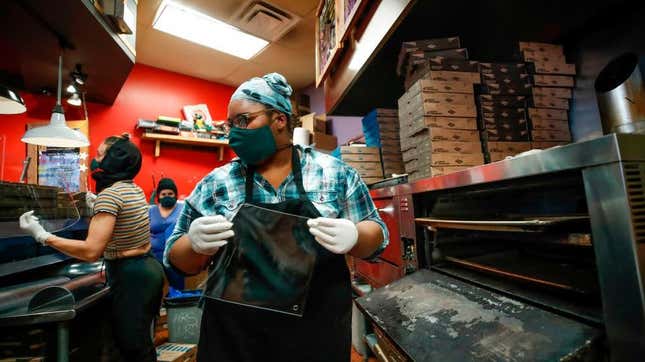 Update, October 5, 2020: This weekend, Bloomberg News profiled several small business owners who chose to pivot during the pandemic to keep from shuttering their restaurants, shops, and production lines. Among those profiled was Dimitri Syrkin-Nikolau of Dimo's Pizza in Chicago, who turned the restaurant's pizza ovens into a large-scale face shield operation quickly enough to keep his 50 employees working while the dining room was closed.

All the Best Finds at the Sweets & Snacks Expo
At the peak of the PPE shortages, Dimo's was producing 1,000 face shields per week and selling them at $5 each, which was enough to keep the restaurant afloat when coupled with a government PPP loan. Now, in October, the restaurant is only selling about 100 face shields per week, but pizza orders have bounced back slightly: Syrkin-Nikolau told Bloomberg that business is about 60% of what it was before the pandemic hit. Despite the success of this business pivot, though, he expressed some frustration that the state of the outbreak isn't markedly better than it was when quarantine began.
"You want to believe that what you are gonna do is going to make a difference," he said. "I feel somewhat overshadowed by the fact that the U.S. still leads the world in number of cases and deaths."

Original post, April 3, 2020: Dimo's Pizza in Chicago has kept firing up its ovens since COVID-19 sent the city into shelter in place, delivering pizzas to home customers and to hospital workers. But recently owner Dimitri Syrkin-Nikolau has discovered another use for his ovens: molding acrylic shields for health care workers.
As Block Club Chicago explains it, "The pizza ovens heat the acrylic to the point it becomes malleable. Once hot enough the acrylic is set in a mold. Dimo's worked with Avenue Metal Co., 1640 W. Ogden Ave., to make molds for the shields. Once the shield cools, Velcro and foam are added."
When he finalizes his production process, Syrkin-Nikolau hopes to work with local hospitals to mass-produce the shields. "I feel like that's what's called for so that's what we're trying to do," he said.
Dimo's, incidentally, is the pizza of choice for the monthly Takeout/A.V. Club/Onion office lunch, and it's good stuff.