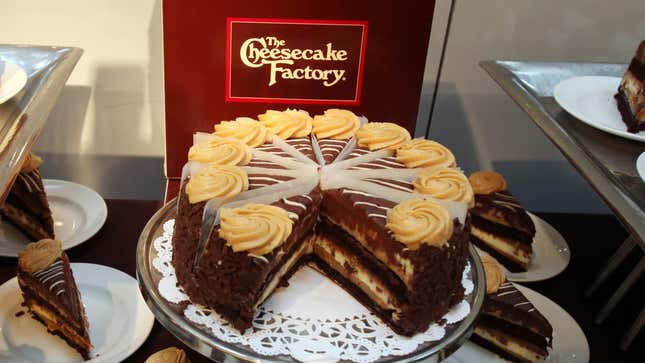 Given the sheer size of its menu, The Cheesecake Factory easily has enough dishes to split into three separate restaurants. at the very least. But many fans of the restaurant might not realize that the scratch-made kitchen chain known for its enormous menu isn't an only child.

All the Best Finds at the Sweets & Snacks Expo
The company, which has the delightful NASDAQ listing of "CAKE," has built a burgeoning empire of additional dining brands that serve an eclectic array of cuisines at various price points, and Nation's Restaurant News reports The Cheesecake Factory plans to spend 2023 developing them further. The majority of these chains were acquired when The Cheesecake Factory purchased a group called Fox Restaurant Concepts in 2019, in a deal valued at $353 million.
When I think about The Cheesecake Factory, all I picture is that glass display case of desserts, plus the aforementioned encyclopedic menu. Superfans might call to mind the signature brown bread. But the chains included under the Fox Restaurant Concepts umbrella don't resemble Cheesecake Factory in the slightest. Scattered throughout the country, each one occupies a different niche in the dining landscape—and their parent company is evidently hoping that each one is poised for aggressive expansion.
Restaurants owned by The Cheesecake Factory
Aside from its titular flagship restaurant brand, The Cheesecake Factory owns over a dozen other restaurant properties, both internally developed and externally acquired. Here's a rundown:
The Arrogant Butcher: Steakhouse
Blanco: Tex-Mex and margaritas
Culinary Dropout: Classic American cuisine with a gastropub vibe
Dough Bird: Pizza and rotisserie chicken
Flower Child: "Farm-fresh casual" food
Fly Bye: Square pan pizza and crispy chicken (tenders and wings)
Grand Lux Cafe: International cuisine
The Greene House: California-inspired cuisine
The Henry: Classic American cuisine
North Italia: Pizza, pasta, and Italian food
Olive and Ivy: Mediterranean-inspired cuisine
Pushing Daisies: Margarita bar
Social Monk: Asian cuisine
Wildflower: New American cuisine
Zinburger: Burger and wine bar
If you'd like to see the comprehensive list of these hundreds of restaurants and their locations, The Cheesecake Factory has helpfully listed them all in a single document. What I find fascinating is how few of these chains I've actually heard of; I'm familiar with Grand Lux Cafe, which is located in a ritzy downtown Chicago spot overlooking Michigan Avenue. Nearly all the rest are a complete mystery to me.
That might be in part because at the moment, several of these chains are regional and not national. The Cheesecake Factory hopes to change that.

"We'll continue to evaluate the [Fox] concepts to make sure we feel like they can have a national presence and make sure that they're hitting the margin profile that we need before we decide that we would scale them up," David Gordon, Cheesecake Factory president, told NRN.
I'm curious: Have any of you dined at these restaurants? If not, do any of these names ring a bell to you?