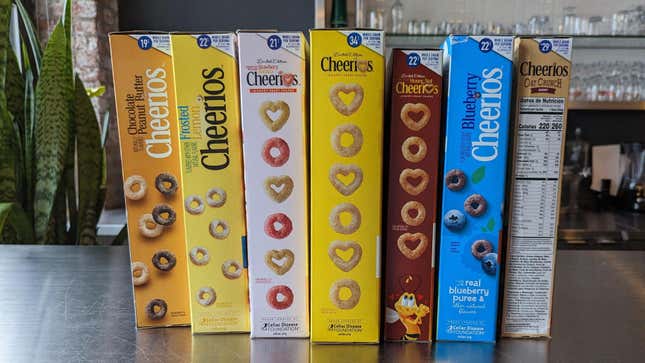 My father eats a bowl of Cheerios every day. His commitment to them is pretty incredible; in fact, there's an entire shelf in my parents' kitchen dedicated solely to Cheerios. For many of us, it's a tried-and-true breakfast staple, whether you prefer the classic version or the Honey Nut variety (guilty). But just how many flavors of Cheerios are there, exactly?
How To Dispose Of Cooking Grease The Easy Way After Frying
The ones I could name off the top of my head are very few: Regular, Honey Nut, and Apple Cinnamon. Uh, that's really all I could think of. So when I found out about all the flavors I was missing out on, I was somewhat shocked.
How many Cheerios flavors are there?
It's worth noting that the products you see at the grocery store rarely represent every variety available. For example, the true number of Oreo flavors on sale at any given time might surprise you, as would the wild lineup of MTN DEW flavors.
But the Cheerios product line is really impressive. There are no fewer than 20 varieties, a somewhat head-spinning amount, given how few of them we've actually spotted on store shelves. Here's a complete rundown of Cheerios flavors:
Cheerios Oat Crunch Berry
Strawberry Banana Cheerios
Honey Vanilla Cheerios
Very Berry Cheerios
Multi Grain Cheerios
Pumpkin Spice Cheerios
Original Cheerios
Honey Nut Cheerios Medley Crunch
Honey Nut Cheerios
Frosted Cheerios
Cinnamon Cheerios
Chocolate Peanut Butter Cheerios
Chocolate Cheerios
Cheerios Oat Crunch
Cheerios Oat Crunch, Oats 'N Honey
Cheerios Oat Crunch Cinnamon
Blueberry Cheerios
Apple Cinnamon Cheerios
Frosted Lemon Cheerios
Vanilla Spice Cheerios
I initially thought such a massive list might include some discontinued flavors, but a representative for Cheerios confirmed that all of these varieties are available now. Pumpkin Spice Cheerios are a widely available limited-time-only product that are typically dropped later in the year, but the rep mentioned that fans can pick them up via Walmart or Amazon at the moment.
I'm shaken. Strawberry Banana, Blueberry, Vanilla Spice, Honey Vanilla, and Chocolate Peanut Butter Cheerios have never once been on my radar. Knowing my father, he probably wouldn't be the biggest fan of any of these flavors, considering he's a creature of habit. But that won't stop me from giving a few of these a try. If you're a fan of any of the lesser-known varieties, let me know which ones you like; I want to see if we've got any sleeper hits in the bunch and seek them out the next time I go grocery shopping.