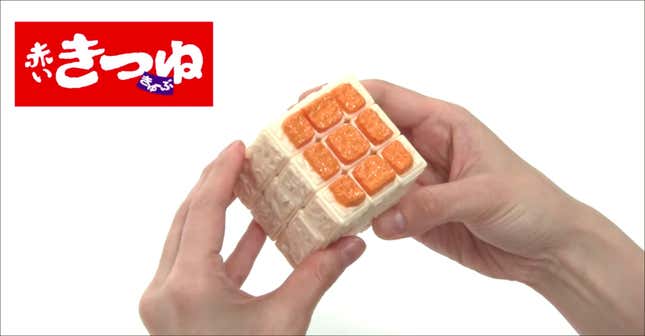 I am a non-stop fidgeter. If you make me sit down for a while, it takes nanoseconds before I reach for something to mess with, which is why kitchen life suits me so well. There's plenty of shit to mess around with there. This toy I'm about to show you blends both food and fidgeting and may finally get me motivated enough to finally fuckin' learn how to solve a goddamn Rubik's Cube. Grape Japan shared this fun toy the other day, and I'm into it.

The Akai Kitsune Cube is a Rubik's Cube-like puzzle that's designed to look like Maruchan's Akai kitsune udon. Kitsune udon is an udon noodle dish with a sweet block of deep-fried tofu on top; Maruchan makes a popular instant version. I learned about kitsune udon through the Netflix series Midnight Diner. Along with its companion, Midnight Diner: Tokyo Stories, Midnight Diner is a series of narrative-driven vignettes that focus on specific dishes. (And yes, I watch a lot of TV shows based on food, leave me alone!)
The Akai Kitsune Cube has a block of deep-fried tofu designed on top, along with noodle textures on the side and bottom. An awesome detail is that the puzzle comes with an instruction booklet designed to look like a soup seasoning packet. If tofu's not your thing, then fear not: There's also a cube in the form of Maruchan's tanuki udon, which is udon noodles topped with tempura batter pieces. My fellow fidgeters out there can grab these things on Amazon. Just don't mistake them for a cup of noodles when you're about to dig in.