We at The Takeout are big Channing Tatum fans. The dancing! The self-deprecation! More dancing! 21 Jump Street! This! All good things.

Well, now he's got a vodka, too. WGAL of Pennsylvania reports that people camped overnight outside Fine Wine And Good Spirits, a store in Hummelston, for the chance to buy a bottle and have it signed by the Magic Mike XXL star.
The spirit, which is called Born And Bred, is the result of a partnership with Grand Teton Distillery, a family-owned and -operated distillery in Driggs, Idaho. It's a small-batch potato vodka made from "the best Idaho potatoes. Twenty-times distilled, it's prepared in small batches and nourished by the unspoiled glacial water that flows from the Grand Teton mountains," according to the distillery website.
The Grand Teton Distillery site also says that the partnership blossomed after Tatum set out to find the best vodka in the country. He apparently found it in Idaho. Here's the official word:
Born and Bred offers premium refreshment for casual company and impromptu situations—no need for a special occasion. Positioned as a lifestyle brand as much as a spirit, Born and Bred celebrates what unfolds when camaraderie meets adventure. This aspect of the brand will be brought to life in a series of original content that is created, curated and promoted by Channing Tatum.
G/O Media may get a commission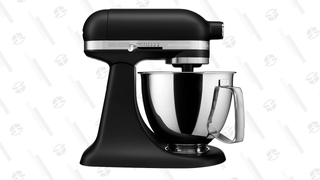 30% off Kitchenaid
KitchenAid Black Friday Sale
Yes, that sound silly, but Channing Tatum is still great. If you're in Hummelston, Pennsylvania today, he'll be signing bottles at Fine Wine And Good Spirits at 6p.m., but as you can see from the photo above, there's a bit of a line already, and the vodka is already sold out. If you do get to meet him, tell him Allison, Gwen, and Kate say hello.