To me, Mexican comfort food is presented through two lenses. One has rich, deep roots that tells the romantically beautiful history of Mexico through ingredients and preparation. The other presents it as an indulgent hangover cure. Carne en su jugo covers both: a miracle Mexican hangover cure introduced to me by my mother, who for the record, swears she loves the dish's flavors and has never used it as a cure for anything.

At its heart, carne de su jugo is steak, bacon, and beans stewed in an intensely savory broth. Radishes add crunch, diced onions add bite, chile de arbol add heat, lime juice adds acid, avocado adds richness. Soups like menudo or tortilla or pozole may grab all the attention, but carne en su jugo really is a soup that has it all.
Translating to "meat in its own juice," carne en su jugo is a relatively young recipe that originated in state of Jalisco. Its history dates back to between the late 1950s and mid-'60s in the city of Guadalajara. The more angelic story dates back to 1958, telling the tale of a woman who placed a bunch of ingredients together in a broth for her churchgoing friends, and thus, carne en su jugo was born. The other (which seems more believable since it has such a late-night food culture to go along with its drinking culture) came about in 1965. Supposedly, the dish was created to reduce the drunkenness or ensuing hangover of revelers on the streets of Guadalajara.
Today, a handful of restaurants in Guadalajara are famous for their Carne en su jugo. (One of them, Karnes Garibaldi, has held the Guinness World Record for fastest food service since 1996, laying out a full meal in just 13.5 seconds.) For me, there's a crowd-pleasing aspect to carne en su jugo—it's chock full of indulgent, delicious components, a Hungry-Man dinner in a bowl.
Whether for the church crowd or the too-many-cervezas folks, carne en su jugo is a soup more people should know about, made to be enjoyed by both the pious and the pitiful.
G/O Media may get a commission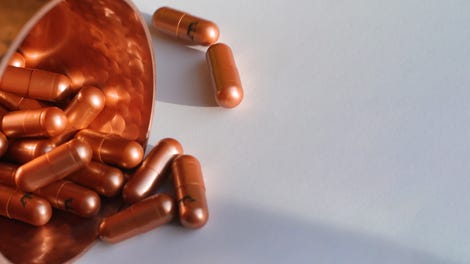 health
The Lyma Supplement
---
Carne En Su Jugo
8 oz. bacon, finely diced
1 1/2 lbs. hanger steak (or flank steak, if hanger is not available)
1 Tbsp. Maggi seasoning sauce (substitute with soy sauce if unavailable)
1 Tbsp. lime juice
2 garlic cloves, chopped
1/4 cup cilantro
1 serrano pepper, chopped
4 cup chicken broth
4 tomatillos, roasted
2 cup cooked, warm pinto beans
Fresh ground pepper
Garnishes
Crispy bacon pieces
Chopped white onion
Chopped cilantro
Chopped radishes
Avocado slices
Lime wedges
Dried arbol chiles
Finely cut the meat into thin slices and then into small cubes; place in a medium bowl. Mix Maggi sauce, lime juice, and ground pepper and add to the meat. Set aside and let marinate.
Combine the tomatillos, chopped garlic, onion, cilantro, and serrano pepper with 3 cups of chicken broth in a small saucepan over medium-high heat; bring to a boil, cover, and simmer for 10 minutes. Remove the pan from the heat and allow to cool. Transfer the contents to a blender, add a cup of the broth, and blend until smooth. Set aside.

Fry bacon in a medium-size Dutch oven until crisp, about eight minutes. Transfer bacon to a plate lined with paper towel and pour off all but a tablespoon of fat from the pot.

Add the steak to the Dutch oven and cook at medium heat until completely browned, about eight minutes.

Pour the tomatillo mixture over the meat, add the rest of the broth, and bring to a boil. Reduce heat to medium, cover the Dutch oven, and simmer until tender, at least 30 minutes and up to 1 hour. (Cooking time will depend on the cut of meat you are using.)

Meanwhile, heat the pinto beans in a saucepan over medium heat until warm; reduce heat to low to keep warm until needed. Stir the bacon and pinto beans into the steak mixture.

Divide the mixture between bowls. Garnish each chopped white onion, chopped radishes, avocado slices, lime wedges, and dried arbol chile.