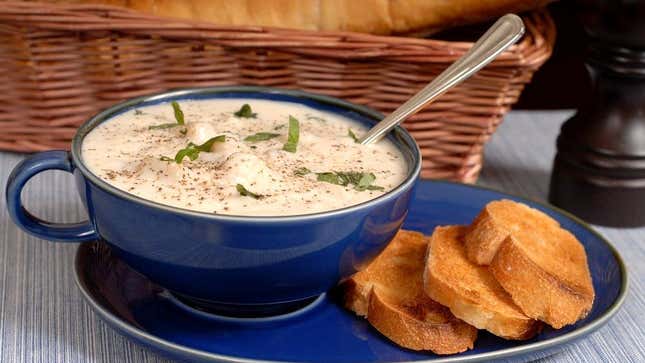 Thinking about clams today, for no other reason than my man right here:

How To Dispose Of Cooking Grease The Easy Way After Frying
The 50-year-old mechanic in a child's body is right—clams rock. But it kind of depends on where you live. Growing up in Western Pennsylvania, we never had fresh clams dredged home from the bay. Fresh seafood, to us, meant Lake Erie walleye, trout, perch, and smelts. Clams and oysters were out of reach, unattainable. Though grocery stores like Giant Eagle continue to carry littleneck clams in the seafood section, their overall selection was lackluster and limited. Plus, they never felt like they belonged to us lake folk, you know? Because of this, if you grow up inland, you unearth the beauty of canned fish at a young age.
In modern culture, we celebrate fancy tinned sardines, tuna in olive oil, smoked oysters, and cooking with anchovies. But there's something missing in that list. Where's the love for canned clams?
What are canned clams?
These are meaty chunks of clams that are cleaned, cooked, and packed in brine. You'll see a few different styles at the store, including minced, chopped, and whole.
I have never seen the appeal of minced clams, which are far too shredded and thin to carry any real texture or flavor. I have also found that whole baby clams, at least when coming from major brands like Bumble Bee and Geisha, have a sort of underdeveloped flavor and texture. Chopped clams, however, are still chunky enough that you can savor their delicious texture.
Chopped clams usually come in two different varieties, sea and ocean. Ocean clams are a bit darker, firmer, and meatier. They have robust flavor. Ocean clams remind me of dark meat chicken, and they're the clams I grew up using for linguine and clams (more on that soon). Sea clams are a bit tougher, with less flavor. The breast meat of clams.
Buy these brands of canned clams
You do not want to get canned clams from just anywhere. As with tuna and sardines, the national brands leave something to be desired. I have found, though, that Snow's and Bar Harbor provide a pretty decent product. Personally, I like the regional companies that ship at a low cost or sell their products in the Midwest.
Lamonica Fine Foods, seller of Cape May brand chopped clams, is one such company, and the product is excellent. This 51-oz. can right here is the one I saw most while working in restaurants as a teenager, usually stacked sideways on a tiered can rack, then grappled off and opened with an industrial can opener on the ledge of a stainless steel counter.
Cape May ocean clams are incredibly savory, sweet, and salty, and they come packed in delicious clam juice—that is, the liquid from the clam cooking process. That juice not only helps preserve the clams and their freshness, it packs a wallop of flavor. This magical brine, and its abundance, completely outweighs what you would extract from cooking fresh clams yourself. That's why, depending on the application, canned clams are superior to fresh.
Canned clams are better for linguine and clams
One of the best pasta dishes of all, linguine and clams, is best when you use canned clams. You might disagree. Hell, I'm sure plenty of people do. But I can articulate my point well: It comes down to the function of the clams in the dish, the abundance of clam meat, and the concentration of the juice.
Whenever I see a picture of linguine and clams made with fresh littlenecks, I always think, "Hey, that looks great—but there's only, like, seven clams in there." I prefer my linguine and clams to be brothy, spicy, and absolutely overcrowded with chopped sea clams.
Minced clams won't work—they're far too small—but with chopped sea clams you can easily fork together seven or eight pieces into a twirl of linguine. Pasta full of shells looks nice and all, but I've never quite understood their function. Having to eat the clams and pasta separately, disjointed, then dealing with the discarded shells—the process isn't very streamlined. Pasta, like every noodle, is a dish I want to slurp up uninhibited.
I wrote a recipe for this style of linguine and clams here, but you probably don't need it. If you have a can of clams, you're moments away from making a quick and easy freestyle pasta dish. You're also pretty damn close to making a killer clam chowder.
Cleaning fresh clams is just a pain in the ass
Sure, if you're craving clams in butter, there's just no substitute for fresh, raw clams. But, when you're cooking with clams, the juice is often not worth the squeeze.
One thing I hear often from people preparing fresh clams is that no matter how well they purge or brush them, they're still sandy. All that grit can be hugely annoying. While alive, clams literally bury themselves in sand, and now you're doing the work to clean them. I personally love that companies are taking the time to clean clams for me, and I submit that canned clams are better than the fresh variety for the home cook.
I see it as the same argument for using frozen hash browns: When an arduous process is being streamlined for you with minimal loss in quality (if any), how do you pass that up?