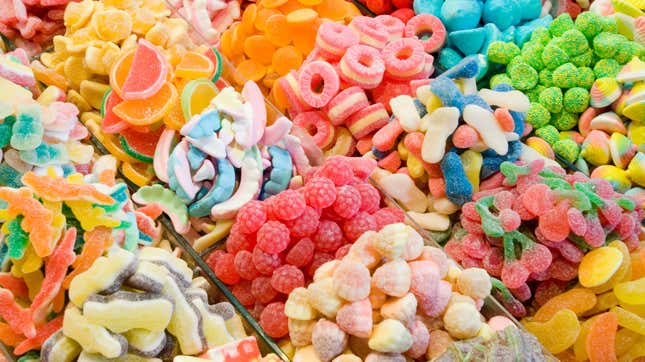 Update, September 13, 2021: Last September, we reported that an eccentric candymaker had decided to give away a whole-ass candy factory to whatever astute individual could complete an epic nationwide scavenger hunt for—you guessed it—a golden ticket. This September, The Takeout sends a hearty congratulations to Andrew Maas of Colorado, for he has discovered this tastiest of buried treasures in Kokomo, Indiana, and has become America's newest, cleverest candy man.
How To Dispose Of Cooking Grease The Easy Way After Frying
Maas was one of thousands of people who participated in the scavenger hunt, the brainchild of Jelly Belly founder David Klein, who has spent the past year driving across the country with his partner, Stephanie Thirtyacre, burying golden necklaces in random places, and posting clues to their locations on www.TheGoldTicket.com. The final clue was posted on Memorial Day weekend:
Don't have a instant idea, for a treasure diehard

We see witches nearby, two stand guard

Go Solve and Search, as low as our toe

Why find a nut and walks are no foe
If you can't make heads or tails of that clue, don't feel bad, because not a single one of the scavengers hunt's 50,000 ticket holders could figure it out either. Klein and Thirtyacre began posting additional clues to the website, eventually narrowing the golden ticket's location to somewhere in Illinois or Indiana. For Maas, that clue was the key to unraveling the entire candy-coated mystery.
Maas told the the Kokomo Tribune that he once realized that the riddle's "treasure diehard" was Indiana Jones, he began scouring state maps for city names that sounded like they could fit elsewhere into the clue. Upon finding the town of Kokomo, he wondered if the line "don't have a instant idea" could be a reference to the song "Kokomo," particularly the lyric, "We'll get there fast and then we'll take it slow." There isn't actually a place called Kokomo in the Caribbean, so the idea of the Beach Boys singing about a tropical paradise in Indiana was as patently ridiculous as the idea of a nationwide scavenger hunt for a candy factory.
Turns out, Maas' instincts were correct: Klein and Thirtyacre had planned to bury the golden ticket in Kansas, but after spotting a sign for Kokomo while driving through Indiana, Thirtyacre remembered that a recently deceased aunt once lived in the city of 58,000, and the two spontaneously agreed they'd found the perfect place to end the hunt.
Knowing that previous statewide hunts always concluded in public areas, Maas began exploring Kokomo's parks on Google Maps. Shortly after 10 p.m. on August 28 he found two pavilions near the Vermont Covered Bridge in Highland Park that looked eerily similar to witches' hats, and he immediately booked a 6 a.m. flight from Denver to Indianapolis, rented a car, and drove straight to the bridge. Thirty minutes later, the golden ticket was in his hands.
As thrilled as he was to win, Maas had entered the scavenger hunt purely for the love of the game, knowing there was no way he could uproot his entire life to run a candy factory in Florida. Instead of getting into the candy biz, Maas and Klein are working on an arrangement in which Maas will receive the factory, and Klein will buy it back from him for an undisclosed sum. Probably for the best, because making candy is truly an art and is best left to the world's professional eccentrics.
Original story: September 4, 2020: It figures that of all the titans of the candy industry, at least one would have their own Willy Wonka-style dreams. That person is David Klein, the founder of Jelly Belly and Tricky Treasures, who says that when he got into the candy came way back 1976, his dream was to one day give a candy factory to a complete stranger. Now, Klein is getting ready to retire, and it's time to make that dream come true... Wonka style.

David and his partner have begun traversing the country and hiding special necklaces in random places that have an interesting story behind them. These necklaces are part of a countrywide scavenger hunt that everyone can join by purchasing a $50 ticket on www.TheGoldTicket.com. Each of the 50 states will have its own hunt, kicking off on different days all throughout the fall. Lucky ticket holders will be able to search for a mystery prize valued around $5,000. Once all 50 treasure hunts are complete, everyone who participated will be eligible to search for "The Ultimate Treasure," which will be the key to one of Klein's candy factories and an all-expenses-paid tuition at a candy-making university.
In addition to the fun and excitement of participating in a real-life quest for a "golden ticket," every person who buys a ticket will receive a 40-pack of CBD-infused jelly beans made by Spectrum Confections, which is very thoughtful. There will only be 1,000 tickets sold for each treasure hunt, so if this is something you've dreamed about doing since you were a child, you may want to act fast.