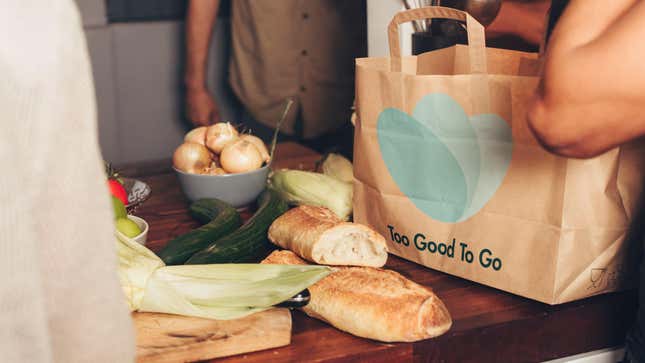 An app called Too Good To Go allows users to find and buy unsold leftovers from local restaurants in their area. The mission behind the app is to eliminate food waste and help the planet—a cause my fellow Takeout staff writer Dennis Lee is more than happy to support.
The About section of the app's website reads: "Our app is the most direct way for you to get involved—just download, log on, and get saving perfectly good, surplus food from your local stores. It's always a surprise and an instant good deed for the planet." A recent press release from the company reports that Too Good To Go has more than 6,000 partners in 13 major cities across the country, including New York City, Boston, D.C., San Francisco, Chicago, Austin, and Baltimore.
Chicago, you say? Well, I just had to try this out for myself. And thanks to the 3 Day Too Good To Go Challenge, a little test of the app's usability in which I use it to get three days' worth of meals (breakfast, lunch, and dinner), I had three days to really put this app to work.
It's surprising to realize just how much food these restaurants likely have to throw out when it doesn't get sold that very same day. Claire Oliverson, Too Good To Go's U.S. Head of Marketing, says the inspiration behind the app was the founders recognizing this as a major issue. Oliverson explains that about 40% of food in the U.S. is wasted and about 10% of global greenhouse gas emissions comes from food waste. Too Good To Go was created as a fun and accessible way to address this problem.
App downloaded, I searched the map for participating restaurants within a two-mile radius (walking distance necessary because I don't drive). I was happy to see that a couple of my favorite local coffee shops participated in the program. Depending on your craving, some of the other options I found in my area included a Jerk chicken place, a Mexican restaurant, and a deli.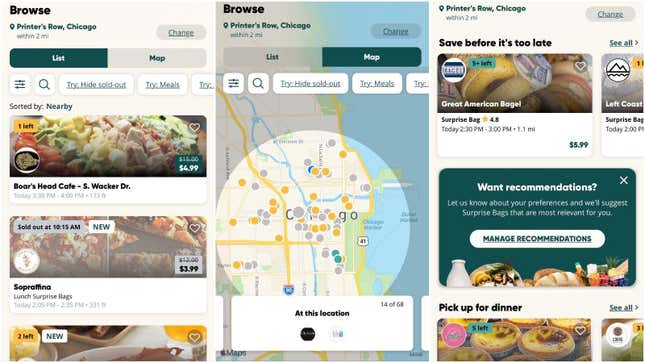 Next, I had to find a place with a bag available to reserve and a reasonable pickup window that worked with my schedule. One thing to note: because the food you're getting is leftover from a business, the pickup windows tend to be around closing time for those businesses. This meant some places had a pickup window of 11 p.m. to midnight.
Oliverson admits that the app probably isn't the most effective way to feed yourself for three meals a day, every day, but she did offer one tip. "Typically a lot of our partners will list their surprise bags for the next day immediately after the pickup window closes," she notes. This pro tip helped me realize my biggest mistake was not planning ahead correctly. In order to snag breakfast, I would need to pick it up the day before when my chosen breakfast spot was closing—I started this challenge off already a step behind. No matter; I pressed on.
I chose a coffee shop with a pickup window of 2:30 p.m. to 3 p.m. and within a 10-minute walk. When I walked in, I was so nervous the barista behind the counter would have no idea what I was talking about and think I was dumb for asking for their leftovers. Thankfully, that didn't happen. The helpful barista told me to just open up the app and mark the pickup complete while he packed up my goodie bag. For $3.99, here's what I got: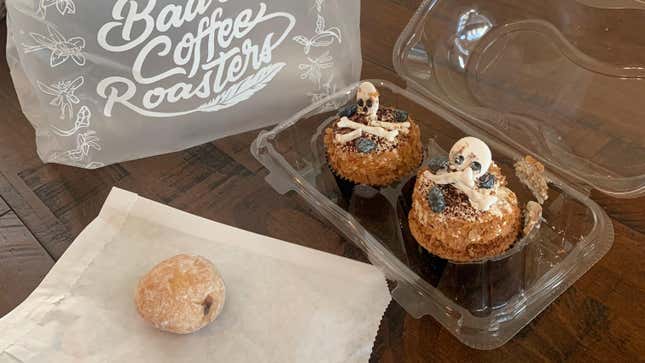 Four cupcakes were available, so the employee let me choose which two kinds I wanted. I chose two tiramisu-flavored cupcakes (obviously Halloween leftovers) and I got a hazelnut-filled beignet as well. The only complaint I have is with this lonely little beignet. This pastry was pulled out of a container stacked with plenty of others. It was 15 minutes to closing time; I think the business could've spared me one more. But for $3.99, I guess beggars can't be choosers.

The next few surprise bags I scored were quite fruitful and because I decided that the contents would cover me for the following day, I ended up with much more than I even needed. For just $7.98 I scored five different muffins, a croissant, and two sodas from a cafe that was about a 10-minute bus ride away.
For dinner and the next day's lunch, I made a double stop at a pizza place and a barbecue restaurant. The pizza place loaded me up with six jumbo slices of pizza (three slices per surprise bag) and the barbecue spot generously filled my two bags with side-dish-sized servings each of what I believe was either pulled pork or brisket, mashed potatoes, and sugar cookies. Both the pizza surprise bags and the barbecue restaurant cost $11.98 per pickup, or $5.99 per bag. Over the three days I spent a total of $35.93.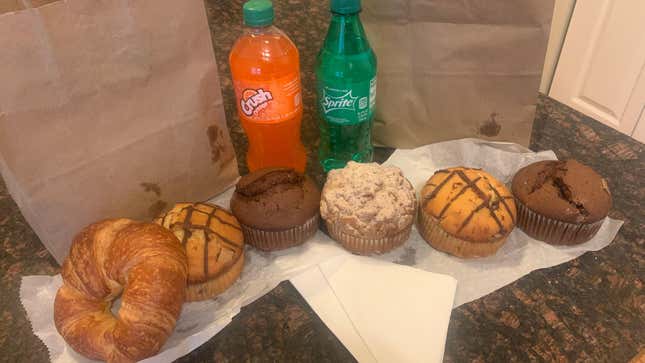 The app does allow users to rate a restaurant's surprise bag out of five stars, noting whether the food was great quality, if there was a good amount of food in the bag, if the workers provided great service, and if the price was reasonable. While I think some updates to the app would be helpful, Oliverson says the team's main focus at the moment is to get the word out and get as many people to download and use the app as possible.

Overall, I'd say the app is a great way to snag a discount meal here and there. If you're an eco-conscious diner on a budget, this will be right up your alley. Plus, it feels great knowing you're saving perfectly good food from being wasted.