Sept. 20 update: After 635 days, the Cleveland Browns finally broke their 19-game losing streak tonight by beating the New York Jets, 21-17. WKYC in Cleveland reports that as promised, the padlocks on the coolers of Bud Light placed all over the city were then ceremoniously opened.
At this writing (11 p.m. Central), so far the Bud Lights have not resulted in mass riots or anything, just happy, happy fans acting like their team just won the Super Bowl.
So congratulations to Cleveland! Bet those will be the best-tasting Bud Lights you've ever had.
G/O Media may get a commission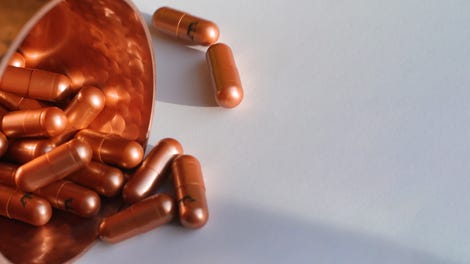 health
The Lyma Supplement
Sept. 10 update: Even when the Cleveland Browns didn't lose, Cleveland still lost. On Sunday, a missed overtime field goal by Browns kicker Zane Gonzalez ended their game against the Pittsburgh Steelers in a 21-21 tie. So, no free beers for Clevelanders. Can they catch a break?
---
The reward for a Cleveland Browns win this season, if such an event should occur, is Bud Light helping make Cleveland sports fans slightly more insufferable.

The Cleveland Browns last won a football game on December 24, 2016. A Christmas miracle, if you will. It is now 2018, and the powers that be behind America's best-tasting cheap-ass beer have decided that giving a bunch of fired-up football fans a bunch of free beer is a great, great, great idea.
They're called Victory Fridges, and Bud Light is dropping them throughout First Energy Stadium and in bars throughout the Cleveland area—that means that in the wild, at least, the fridges will only be accessible to people over the legal drinking age. Each fridge is equipped with "Bud-E Fridge smart technology," which will trigger in the event of a Browns win at home or on the road, much like a prison warden disabling the locks to all the cells. When that happens, the doors swing open, and dilly dilly, free beer for everyone in the vicinity.
I haven't been a football fan since I was a kid. Even still, I remember the particular sting of 2008, when the Lions went 0-16 (yes, I was a Lions fan; have you seen Barry Sanders run? That man is something else). So I can understand Bud Light's expression of sympathy, solidarity, and encouragement to a beleaguered fan base. But holy cow, you're giving free beer to football fans after a win? Not at the next game, not the next day, not even in a few hours. A win happens, and hey drunk people, come and get all this free beer, it's all yours, have at it, get home safely, remember that there's a big fee for puking in the back of an Uber.
In a press release, Andy Goeler, Vice-President of Marketing for Bud Light, said that "The Bud Light Browns 'Victory Fridge' is a fun way to celebrate and reward a fanbase that has never wavered in enthusiasm or dedication for their team no matter what happens."
Mr. Goeler, there has got to be a better way, man.
Goeler told the Cleveland Plain-Dealer that the idea came about when the company spotted "great pictures of fans holding up Dilly Dilly signs. That inspired us. They're diehard fans." Perhaps aware that this seems a lot like trolling, he added, "We believe in Cleveland. It's just fun. They will win, obviously, and we want them to win."
And when they win, presumably, all hell breaks loose. Per the Plain-Dealer:
Each orange and blue fridge holds upwards of 200 aluminum 16-ounce bottles. The company is being a bit coy about specific locations because Ohio law prevents pre-promotion of this type, the folks at the beer company say, but all will be in the "general Cleveland area."
Cleveland's first game of the season kicks off at 1 p.m. on Sunday, September 9. In theory, that fridge could pop open that afternoon. There is but one reassuring element to this story, and it is this: there's no way they're going to win that game, right?