Pubs in the Yorkshire area have been warned to keep an eye out for a dine-and-dasher with a rather extreme approach to his particular racket, The Morning Advertiser reports. The two recent incidents, which The MA suggests may be related, involve a man arriving at a pub for an overnight or several-night stay, ingesting an absurd amount of food and booze, then vanishing like a drunk, sweaty magician or something.

We Rank Three New Grillo's Pickles Flavors
In the most recent incident, a man racked up a £195.50 tab (nearly $250 USD) in a single day and evening at the Wyvill Arms in North Yorkshire. During his stay, the man, whom a staff member described as being tall and "of large build" with strawberry blonde hair and in his late 20s to early 30s, consumed:
One steak pie

One "pricey fillet steak"

4 bottles of Peroni

4 "large white wines"

14 vodka-Cokes

2 gins

2 pints of a craft lager

The self-professedly "tired and emotional" then ordered a £23 bottle ($30 USD) of prosecco and tottered off to bed. In the morning, he dipped without paying the tab. (How is this man not dead from alcohol poisoning?)
We at The Takeout humbly suggest that the authorities might want to broaden their search to include very hungry caterpillars.
The first incident is somewhat less staggering, though actually more expensive. A man matching the above description stayed for five nights in mid-November at The White Horse in the Yorkshire Dales. When he vanished from that establishment, he left behind a £500 bill ($634), which included a £100 tab ($126) for 25 pints of lager.
G/O Media may get a commission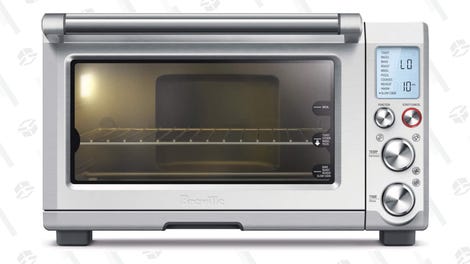 36% Off
Breville Smart Oven
Dave Bate, the landlord of the pub, told The MA that the man "said his boss would be paying," and described him as "a pathological liar and clearly a very heavy drinker.
A spokesperson for the North Yorkshire Police confirmed to The MA that an investigation was ongoing, and that they're attempting to confirm whether or not the incidents were related and/or perpetrated by a human, rather than by Taz the Tasmanian Devil disguised in a business suit and fake mustache.