A Scottish craft brewery set out to keep adults' Willy Wonka-esque dreams alive, but ultimately ended up crushing them—and now the business must pay the price. Back in 2020, BrewDog announced to its nearly 180,000 Twitter followers that "solid gold" cans of its Punk IPA were hidden out there in the wild. Each lucky finder of these cans would get to keep the one they found—worth an estimated £15,000—and would also receive £10,000 worth of shares in the company and a "VIP tour" of the brewery.
Here's the thing: A lot of people took the "solid gold" claim literally, and winners were quite disappointed to learn that the cans were not actually solid gold, but merely plated with gold. Oh, the humanity!
Per The Guardian, many of the winners took their complaints to the UK's Advertising Standards Authority (ASA). And the ASA sided with the Karens, agreeing that the promotion was misleading.
Understandably, this led to a PR nightmare for the brewery, leading its CEO, James Watt, to apologize in a lengthy post on LinkedIn more than two years later.
G/O Media may get a commission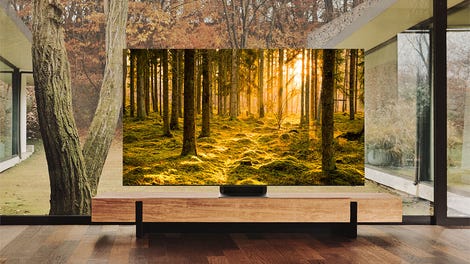 Up to 40% off
Samsung Smart TVs
"A £500,000 mistake," Watt wrote. "Made by me."

He went on to explain that he was unaware the winning cans were not actually solid gold (though still worth £15,000, as claimed) at the time the tweets were written and posted. Nonetheless, Watt apologized profusely.
"I should have been more careful," he wrote. "I should have checked things before I got carried away. But it was too late... My initial tweets had been misleading and we deserved the flak. What was looking like one of the best campaigns in our history was now, decidedly, the worst."
Watt explains in the LinkedIn post that he took the step of personally calling each of the 50 winners—who apparently thought of themselves as losers—and offering them the cash equivalent out of his own pocket, in exchange for the return of the gold cans.
"All in all, it ended up costing me around £470,000—well over 2 and a half years' salary," he wrote. And I always thought there was no such thing as bad publicity.
Watt wrote multiple times in the apology that he himself had made the incriminating tweets. The fact that the CEO of a global brewery is also running its social media accounts is perhaps cause for concern. A person in that position has a lot of the company's moving parts to worry about, so it's not surprising that the precise, legally binding wording on three of the promotion's 50 social posts wasn't particularly high on Watt's priority list. Hire me and I'll do your social media, BrewDog!
Rather than apologizing, Watt could have stayed quiet, or even told the winners to go fuck themselves. If I were running BrewDog's social media, that's exactly what I would've done, because I find it difficult to feel any sympathy for the winners, however misled they might have felt by the promotion.
Imagine winning tens of thousands of dollars in a contest and then complaining that it wasn't enough. Remember, this isn't a case in which the winners received any less money/value than they were promised. Even though the cans were not "solid" gold as stated, they still contained real gold and were still worth every cent of the amount BrewDog's tweet claimed—and the winners' stock shares were equally valuable. You're not happy with a golden beer can because it's not heavy enough to kill someone? Tough shit!
Of course, beverage contest disasters are nothing new. The whole saga is reminiscent of the one laid out in Netflix's Pepsi, Where's My Jet? (And personally, I would've told that guy to go fuck himself, too.)