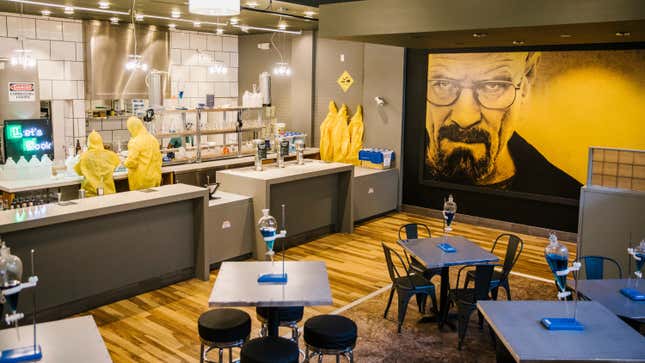 Update, October 22, 2019: So as everybody knows, the restaurant in Breaking Bad was called Los Pollos Hermanos and it served fried chicken. You complained, and Uber Eats heard your cries. The Hollywood Reporter, um, reports that
Family Style Inc. — a delivery kitchen network which operates 23 "enlightened kitchens" across California, Nevada and Illinois — has partnered with Sony Pictures Consumer Products and Uber Eats to bring Los Pollos Hermanos to life under a three-year deal launching Thursday exclusively on Uber Eats.
How To Dispose Of Cooking Grease The Easy Way After Frying
And there will be fried chicken! And a fried chicken sandwich, because this is 2019 and everyone has a fried chicken sandwich!
"I'm relieved to report that the folks at Family Style got it right," Breaking Bad creator Vince Gilligan told the Reporter. "Their chicken sandwich is big and crispy on the outside, tender and juicy on the inside, and it rests on one of the better brioche buns I've come across. It doesn't skimp on the spices, either. Don't worry, it won't set your mouth on fire ... but it's got a good kick to it. I think Gus [Gustavo Fring, proprietor of Los Pollos Hermanos on the show] would approve." (Get this man a food writing gig, stat!)
For now, you can only get virtual Los Pollos Hermanos in L.A. For the full Breaking Bad experience, you could order your chicken and take it to The Breaking Bad Experience, so you can pair it with a Walter White-style cocktail.
Original story, October 16, 2019: From the same folks who brought you the TV-themed popups Saved By the Max, Good Burger, and the Peach Pit comes an exciting new restaurant concept: The Breaking Bad Experience. Its first pop-up location opens tonight in LA, just a few days after the Netflix release of El Camino: A Breaking Bad Movie.

The pop-up will, of course, be highly Instagrammable (otherwise why bother?), featuring re-creations of sets from all five seasons of the show, the Los Angeles Times reports, "including a prop Winnebago that leaks blue smoke, as well as Heisenberg sliders and loaded 'Saul-sa' nachos served by people in hazmat suits." There will also be "a do-it-yourself menu of chemically reactive cocktails," adds The Hollywood Reporter. And also Funyun Pie, Crystal Ship Cinnamon Churro Bites, and Walter White wine. There will not be any meth, but there will be vegan options. Admission is $30, which includes one cocktail concoction, one menu item, and 90 minutes inside the space, which should be plenty of time to sneak into the back and find out what's inside those chicken batter buckets. Have fun, bitch.