Today, at the Television Critics Association summer press tour, Facebook Watch announced an addition to its burgeoning roster of new series. Why is this food news? I'll tell you why it's food news. It's because the series in question is called Big Chicken Shaq, and I'll give you two guesses what it's about.
Go ahead, I'll wait.
Take it away, press release:
Iconic athlete, actor and television analyst Shaquille O'Neal is fulfilling a lifelong dream of launching his own restaurant, and he's enlisting the Facebook community for advice along the way. Shaq has partnered with Asylum Entertainment, a TCG company, to produce Big Chicken Shaq, an eight-episode Facebook Watch series premiering this fall. Through real-time engagement on Facebook Watch, fans will be able to help shape Shaq's new Las Vegas restaurant – Big Chicken – launching later this year. The series will also feature a variety of content in-between episodes, and O'Neal will leverage Facebook Live to surprise fans with cookalongs, taste tests and other activities.
G/O Media may get a commission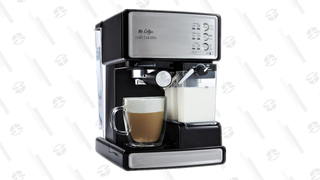 36% Off
Mr. Coffee Espresso And Cappuccino Machine
Boom. You nailed it. I know this, because even if your first guess was the same as The Takeout's Kate Bernot—"SHAQ AND CHICKENS?" with a crossed-fingers emoji—then you absolutely guessed correctly on the second attempt, right?
A representative for Facebook Watch confirmed that the restaurant is, in fact, chicken-centric, specifically making fried chicken sandwiches. A press release from Facebook Watch indicates that Big Chicken Shaq is slated to premiere this fall; no word yet on crossover potential with Ball In The Family.