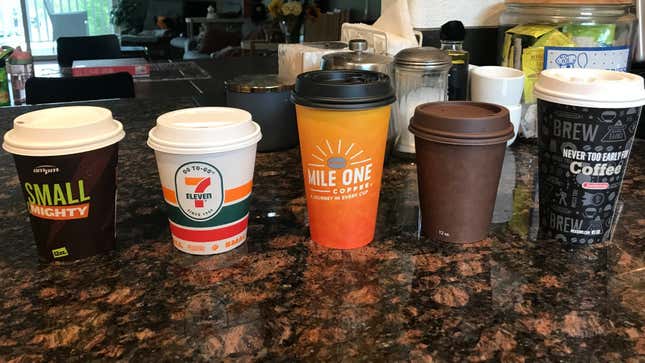 Almost everyone I know has a distaste for 7-Eleven coffee, but I love it. Or loved. Years before we had kids, my partner and I often took day trips to Government Camp, the "town" closest to Mount Hood, the famous year-round ski covered mountain unique to the Pacific Northwest. On many occasions, we'd stop by a 7-Eleven to grab a cup of coffee. Ever since, I've had a special fondness for gas station and convenience store coffees.

But my affection for this coffee has less to do with the actual quality and more to do with the experience of grabbing a cup on the go, amidst some fun excursion. What if I tried all the options available in my area, the full gamut of gas station coffees, and actually focused on the taste of each one? It was time to decide, once and for all, whether 7-Eleven coffee is truly the best.
I had two simple rules for this experiment:
It must be a chain with locations in a lot of states.
The coffee must be sipped black, sans sugar or creamer, allowing me to judge its true taste without additives.
What started as a jaunt around town with very low expectations turned out to be a truly enlightening experience as I discovered that there is in fact, better gas station coffee than 7-Eleven. Here are the five contenders, ranked from worst to best.