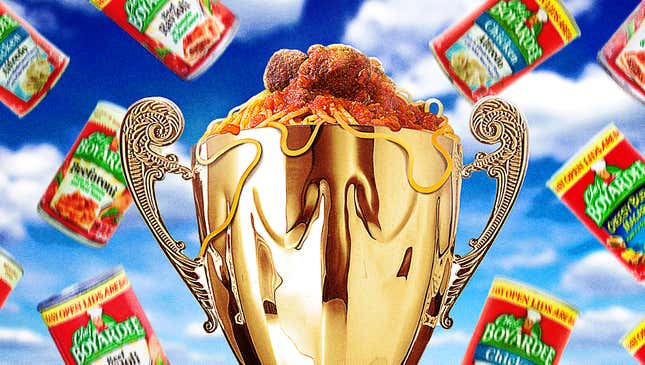 It's been nearly 100 years since Italian-American chef Ettore Boiardi opened a Pennsylvania factory to produce ready-to-cook spaghetti kits that included uncooked pasta, pre-portioned cheese, and his signature spaghetti sauce. Since then, Chef Boyardee has grown into a Conagra-owned grocery store staple, and its canned pastas have offered busy Americans a tasty, affordable culinary respite for decades. Well, mostly tasty. We've done the research, and we have thoughts.
With all due respect to Chef Boyardee (both the man and the brand), what follows is the definitive ranking of all canned Chef Boyardee products currently available at American grocery stores. This was accomplished with a team of three taste testers, evaluating each of the following four attributes on a five-point scale (with any tie going to the more unique product):
Flavor: Is there mere blandness, an overwhelming saltiness, or complex, tomato-forward flavor happening here?
Texture: Do the noodles fall apart into mush, or can they hold their own in the sauce? Are they fun to chew?
Satisfaction: Does this product leave the eater feeling like they just ate a square meal?
Repeatability: Would we voluntarily buy this product again to eat in the future?
With that, let's get started. There are many cans to pop open.