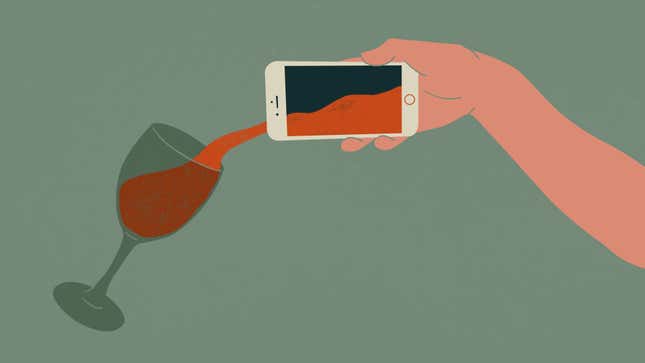 I often take a picture of the label on a wine bottle I really like, whether at a restaurant or a friend's house. How often I actually search that particular image collection when wine shopping later is another thing—honestly, I usually forget. So I may be just the kind of person who's looking to extend their wine enjoyment by using an app of some sort. But which one? After all, a plethora of wine apps exist, focusing on everything from food to types of grapes to your cellar inventory (ha, I can barely keep nine wine bottles in my dining-room holder). I overloaded my phone by downloading a bunch, then waded through which ones we all might find the most useful.

---
Delectable got high marks and appears to be an all-in-one kind of app: You can learn more about the wine you just took a picture of, pick a wine before a meal, and keep track of the wines you've tried. The elegant app tries to narrow down your preferences by asking you to focus on categories like "Provencal Rose," "California Chardonnay," or "Picnic Wine," then offers them in different price categories. It also offers featured and trending labels, and you can add your own likes and comments. It's hard to think about a wine need this app could not fulfill (except for physical thirst).

A wine distributor friend told me that Vivino was the way to go. But Vivino lacks the overall wine knowledge that Delectable kicks off with: Everything is based on the wines you scan, so it may take a while for your preferences to kick in. (Vivino will also scan the wine list at the restaurant where you're eating.) And a "Wine Taste Characteristics" upgrade will help with that tricky task of figuring out what a wine tastes like before you actually taste it. Plonk seems like a weaker version of the above, although it adds a valuable "Answer 3 Taste Test questions to find the grapes you might like to drink," as well as the pronunciations of all grapes and varietals.
Hello Vino is in a similar vein as Delectable, asking me my preferred category (rich, creamy whites with flavors of pear, butter, and vanilla), and price range (under-$20), resulting in suggestions of a few bottles I already drink, like Kendall-Jackson Chardonnay and Louis Jadot Macon-Villages Blanc, complete with tasting notes and food pairings. Also, its "wine assistant" is pretty fun, helping you to search wines by popularity or occasion. The lesser Wine Ring pales in comparison, asking you to create an account immediately. (Although you can fast-forward to the JumpStart section, which offers a list of popular wines you can rate right out of the gate.)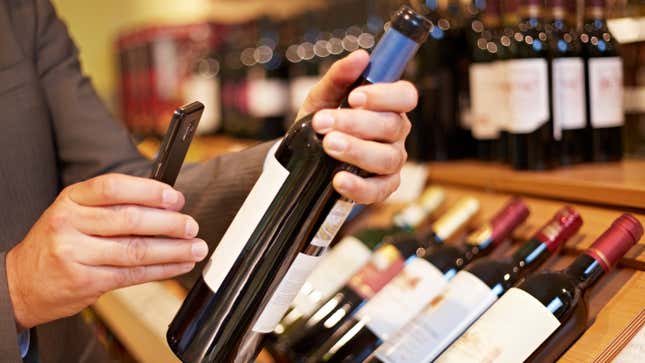 I don't really have enough wine storage in my house to need Cellar Tracker, even though its website is nice for browsing. Those interested in wowing friends at their next wine-tasting could check out Tipple, which "guides you step by step through describing the wine's appearance, aromas and palate characteristics," kind of like a cheat sheet. It also offers your own personal "timewine": "an animated journey back through the wine you've enjoyed." You can even track wine events and other places to drink wine with Wine Events (by localwineevents.com) and Winery Passport. 
Not only do I not have a lot of room in my house, I also don't have enough room on my phone for more than one wine app (not when my kids keep downloading skateboard and home design apps when I'm not looking). So I would probably stick with Delectable for its ease-of-use, attractive interface, and overall versatility (with Hello Vino's fun interface as a runner-up). So I'll keep that one, and will hopefully remember to use it.
I even asked my friend Jean Iversen, author of BYOB Chicago: Your Guide to Bring-Your-Own-Bottle Restaurants and Wine & Spirits Stores in Chicagoland, if she has a go-to app. As someone who has built a career out of bringing bottles of wine to restaurants, I thought she'd be a good source. Her surprising response: "I don't really use any. I have a network of people who help me find good wines. Stores either capture my purchases or I take photos of the bottle on my cell if I want to restock." Which is pretty much where I came in. But I suspect I will enjoy using an app, as I learn more about the wines I like, why I like them, and how to find more of them.