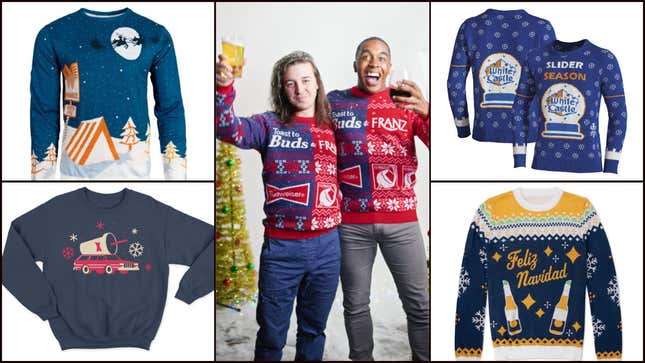 Remember when ugly holiday sweaters were silly, ironic fun? Now there's an ugly sweater for just about everything: cars, video games, cocaine... if it can be marketed, it can become a sweater. Who is buying all these ugly sweaters? No idea. You, maybe? There are 30 days between Thanksgiving and Christmas this year, which means you've got 30 chances to be a whimsical walking billboard that's warm and toasty, too.

All the Best Finds at the Sweets & Snacks Expo
This year we'll be keeping a running list of the hottest/ugliest sweaters that will help you celebrate the holidays and capitalism at the same time, which truly is the reason for the season. We'll keep updating this list as companies keep dropping the no-longer-ironic, genuinely aesthetically atrocious apparel that will make your days merry, bright, and branded.
---
Blue Moon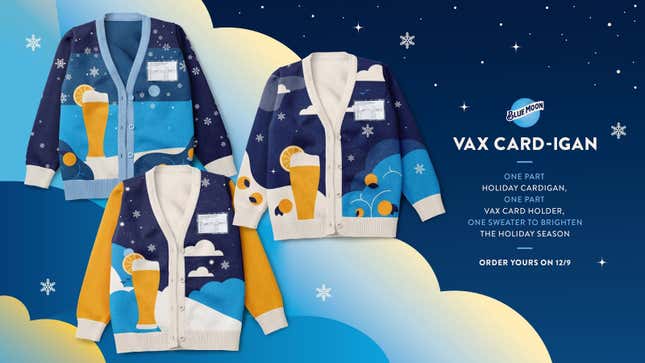 If you're vaxed, waxed, and ready for snacks, celebrate the season in a playful cardigan from Blue Moon. The "Vax Card-igan" has a transparent front pocket to show off your ability to make smart, science-based decisions. According to the press release, making the pocket see-through means "less trouble finding and handling your vaccine card," thus giving you "more opportunity to order and enjoy the invigorating taste of Blue Moon." Can't argue with that kind of logic.

---
Popeyes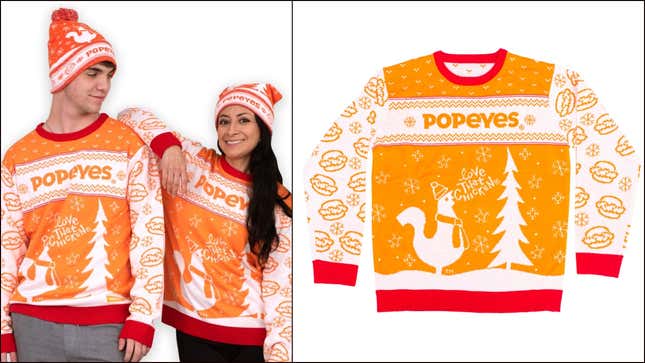 Popeyes has brought back its festive orange holiday sweater, featuring an adorable chicken all wrapped up in a cozy scarf and pom-pom hat. Little does he know, he's about to die. Hot damn, that chicken looks delicious.
---
Outback Steakhouse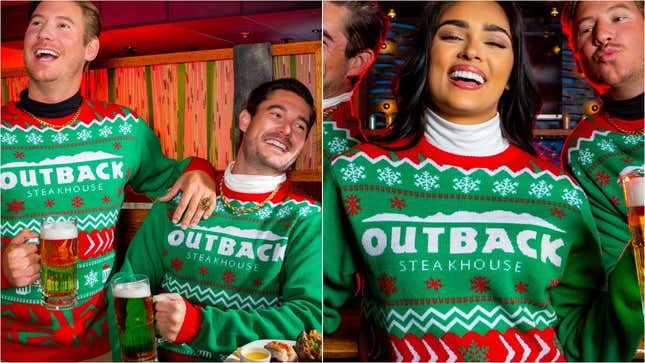 Do you know someone who really loves Outback and is always cold? Do you love that person enough to spend $64.99 on them? Then consider your holiday shopping done!
---
Camarena Tequila

 Finally a brand has decided its had enough with this "ugly" nonsense, and is classing up this whole branded sweater racket. While your friends are milling around holiday parties in their intentionally-grotesque best, you can be gliding through the crowd in a schmancy tequila tuxedo jacket, oozing class and sophistication. Watch their plebeian jaws drop as you reach into the inside pocket and pull out the included flask and take a swig of classy Camarena tequila. Can you put a price on that wondrous feeling of social superiority? Yes, and that price is $125.
---
Franzia and Budweiser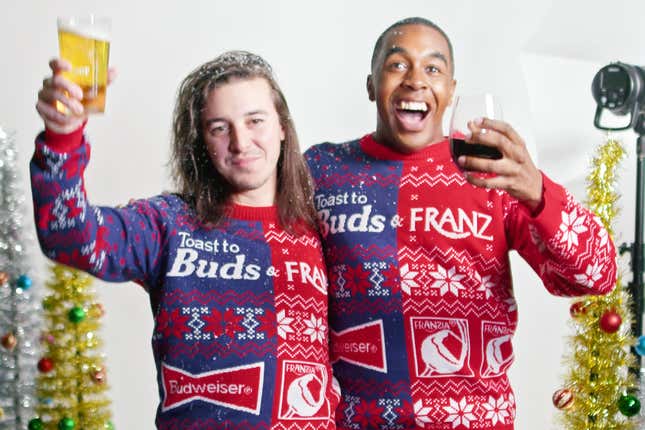 The holidays are, in theory, a time for us to celebrate all the love in our lives: our families, our friends, and of course, our Franzia. While you break out the good stuff this holiday season, remember that boxed wine is there for you all year round, just like its BFF, cheap beer. This bond is sacred and deserves celebrating, which you can easily do by wearing this $50 sweater, inviting your "buds" and "franz" over for some holiday cheer, and then getting hangovers... together.
---
Whataburger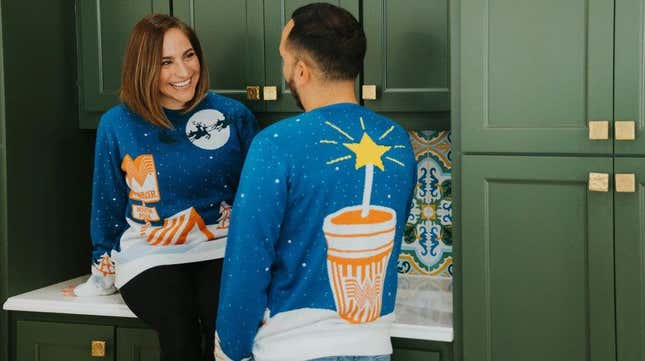 Whataburger's 2021 holiday sweater begs us to ask the question, "What is 'ugly,' anyway?" In the olden days, wearing a sweater like this would be seen as an ironic statement about the confluence of Christmas and capitalism, a juxtaposition of the sacred and profane woven in acrylic thread. Then the edgy, punk-rock irony of ugly sweaters became publicly acceptable "irony," and when that happens, is "ugly" really ugly anymore? When you see a marauding pack of drunk, bedazzeld bar crawlers decked like halls in "hideous" sweaters, are they a mockery of good taste or a celebration of corporate synergy? Who are we, really, when we pull these sweater-tisements over our chilly bodies?
Anyway, I can't tell if Whataburger's $49.99 holiday sweater is ugly, cute (that blue!), or simply outside the boundaries of all fashion. I've got a lot to think about this holiday season.
---
White Castle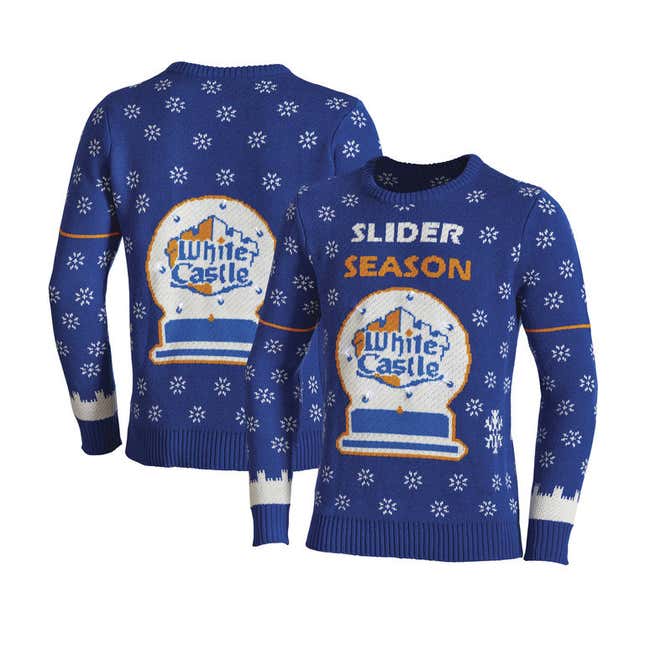 Making fun of corporate swag is one of my favorite things to do (those robber burger barons have it coming), but I have a weakness for White Castle, and will buy just about anything they tell me to. The Castle catered my wedding, helped get me nominated for a James Beard Award, and has guided me through some of my most trying times. Those steamy, sumptuous sliders have changed my life for the better, so just imagine what amazing things could happen to me while wearing this elegant White Castle sweater? ($45.99)
Sporting the slogan "Slider Season" (isn't it always Slider Season, though?), this D.J. Tanner–approved royal blue sweater features the White Castle logo encompassed in a light-up snow globe.
---
Sonic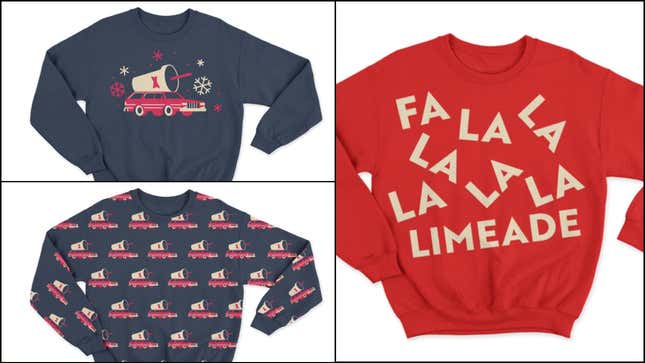 So technically Sonic shouldn't be on this list because it's selling sweatshirts instead of sweaters, and not a single one of them is ugly. I don't even eat at Sonic on account of not having a car, nor do I look good in a crewneck sweatshirt on account of my gigantic head, yet I still kinda want to wear all three of these $40 bad boys. Also kinda hoping that Sonic will pull the trigger on this whole "Giant Cup Station Wagon" thing, because the Wienermobile needs a nemesis, and I'd like to see the two of them drag race.

---
Corona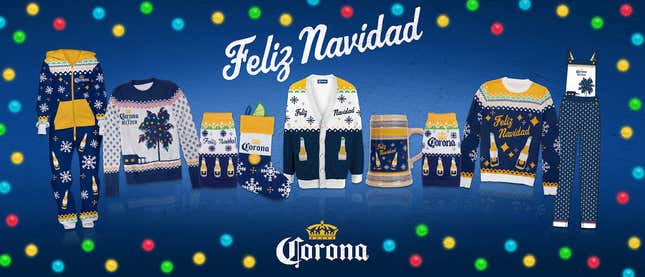 When you see someone wearing a Corona sweater, you know that's a person who likes to party. Don't you want to be that person? Don't you want to light up a room the moment you step through the door, both literally and figuratively (as one of these sweaters actually lights up)? Don't you want people to know that whenever you're around, the good times'll be a'rollin'?
There are not one, not two, but three sweaters in Corona's holiday collection: a classic "Feliz Navidad" crewneck ($44.95), a light-up palm tree crewneck ($54.95), and a smart looking cardigan for the most sophisticated par-Tay animals ($44.95). If you can't get your hands on one (they're selling quickly!), Corona will be randomly giving away free swag through December 3 at CoronaHoliday2021.com.