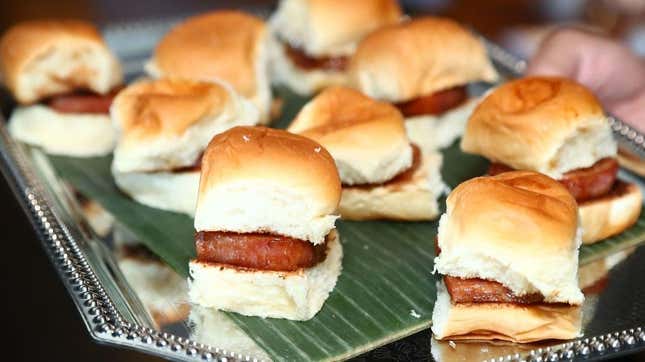 As I peruse the Spam website for the very first time, I'm cracking up reading the copy. "Six Simple Ingredients." It seems that Spam has become aware of the fact that a lot of folks still think of it as mystery meat, and the company has pivoted to branding its product as simple and honestly made. Ah, yes, mom-and-pop canned ham made right at home, in that room you're never supposed to go in, where the caterwauling comes from. About the term "mystery meat": It's a worn-out phrase. Be more creative. I like to use "conjured ham" or "protein fusion" when describing Spam. Call it science or call it necromancy, but one thing it is not is a mystery.
It's been a while since I've checked in on Spam, and I'm pleased to see that it has adapted to the times; the company knows exactly how to sell the stuff today. It has stayed relevant in the modern era by being forthright about the process by which it's made, embracing Spam's cultural influence, and really tapping into the weird, wild, exciting qualities of canned Spam. And of course, Spam is summoning influencers to work their dark magic for the canned meat amalgamation.
Here's the thing, though: The content is truly great, and to me it looks like it comes from a place of pure love. Spam is continually posting pictures to Instagram of musubi, dutch baby pancakes, kabobs, pineapple pizza, charcuterie, fried cheese balls, ramen, and tacos—all made with Spam. The company understands that it has a worldwide adoration, and it taps into that easily.
What you might not know is that Spam sells a number of different flavors. Recently, the bizarre and seasonal Figgy Pudding flavor made a splash, but what I'm really hoping is that Spam experiements even more ambitious flavor profiles. As the Instagram account suggests, there are an innumerable amount of uses for Spam, and a unique flavor to match with each one. Let's dive into a few of the more robust iterations of the beloved product that you can buy today.