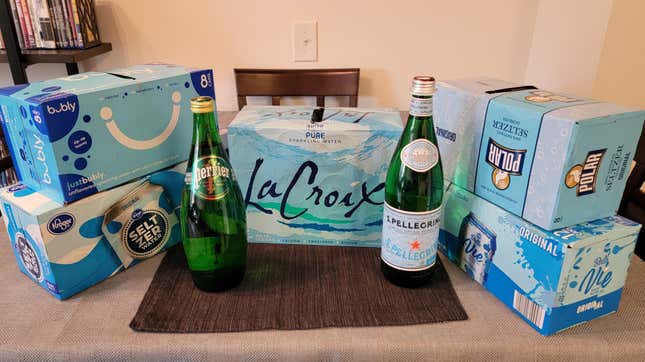 Two stints in college, a decade of (mostly) respectable publications, and this is what it comes to: Hi, everyone. Josh here. Today, I'll be ranking the taste of seven unflavored waters.
Now, this isn't as depressing as it sounds (or at least that's what I'm choosing to tell myself). Seltzer water has seen a surge in popularity over the last few years, especially in the adult-beverage world. But we're not here to debate the merits and cultural implications of White Claw. Instead, let's focus on the most basic version of seltzer: Purified water, carbon dioxide, and maybe a stray mineral or two.
I've been drinking plain seltzer at an unreasonable pace for years, and I've come to the surprising conclusion that some unflavored versions somehow taste better than others. Read on for a ranking of seven of the most widely available brands of fizzy water, along with a breakdown of their relative cost per can.