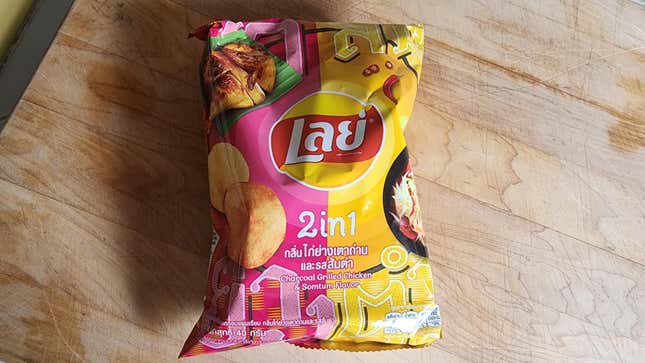 I live in Thai Town, Los Angeles, home of notable restaurants like Ruen Pair, Sapp Coffee Shop, and Radna Silom. It's also the base camp for this little Thai dessert store and supermarket called Bhan Kanom. If you're visiting LA, I highly recommend Bhan Kanom. It's a magical place that has all kinds of delicious treats like freshly made salted egg yolk cookies, crispy crepes, pang chi, coconut pudding, and a ton of imported Thai snacks and candies. There's an entire shelf dedicated to Thai Lay's products, a godsend given how much international shipping can cost.

Dr. Pepper Strawberries & Cream Is Tearing Us Apart
I thought I had tasted all of the Lay's chip flavors from Thailand over the years, but new flavors just keep on comin'. It seems like the good folks over at Thailand Lay's Co. are inventing new and exciting flavors each and every year. And while the hits like Nori Seaweed and Sweet Basil are really great, I recently came across an absolute banger flavor: Charcoal Grilled Chicken and Somtum.
What do Charcoal Grilled Chicken and Somtum Lay's chips taste like? 
This is the chip of the summer, folks. That new sound you've been waiting for. Get in, loser, we're going to Thailand.
These chips are bright, funky, smoky, and savory, and they pack a ton of citrus. Somtum is a Thai salad made from papaya, beans, peanuts, often dried shrimp, garlic, and lots of lime juice and fish sauce. It has perhaps come to your table at a Thai restaurant before as an accompaniment to a protein dish of some sort. As a chip flavoring, it imparts a deeply funky, tangy note that tastes like pure summer.
The charcoal flavor is delicious, too; it actually reads like the char on grilled meat, not a one-note liquid smoke barbecue flavor. It's odd to bite into these potato chips and think, "Ah, a summer barbecue," because fish sauce and limes are two things that were decidedly not at my family cookouts in Pennsylvania. But damnit, this tastes like the type of cookout I wish we had.
I also wonder whether or not Lay's actually used chicken salt or something to flavor these chips, because they taste awfully meaty. The exact ingredients aren't known to me—the bag mostly features Thai script, which I don't read—but the package does say that the chips contain shrimp and fish. That definitely contributes to the savoriness and depth of flavor here.
I wish more chips tasted like Lay's Grilled Chicken and Somtum. The flavors are assertive and feel wholly new—the best I've tasted all year. It's all so refreshing and exciting that I'm feeling a renewed enthusiasm about this entire column. Simply put, I'm not going to run out of interesting chips. And I will certainly be bringing a bag of these chips to every barbecue I attend this summer.