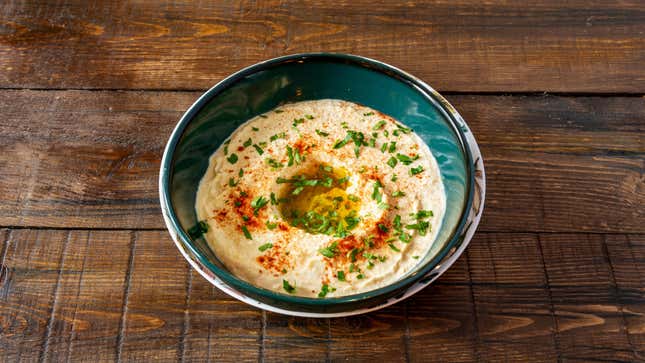 It's been ten years since Deb Perelman of Smitten Kitchen released her recipe for Ethereally Smooth Hummus, forever changing the course of dinner in my household. The results were transformative—we made this recipe from the same canned chickpeas we always chose for our hummus, and prepared it in the same old food processor we always used, yet our hummus suddenly resembled the velvety, restaurant-quality stuff we often dined out just to experience, rather than the slightly matte-textured homemade spread we were used to. The secret to this silky texture, Perelman explains, lies in how you prep the chickpeas before blending them. And as kitchen prep tasks go, most people are not thrilled by the suggestion: You've got to peel the chickpeas. Individually.
How To Dispose Of Cooking Grease The Easy Way After Frying
To her credit, Perelman understands that this suggestion is annoying. In fact, her entire headnote hinges on this point:
I have known how to make the most ethereally smooth, fluffy, dollop-ing of a hummus and never told you... But, in my defense, I had my reasons, mostly that I knew if I told you how to make it, I'd be able to hear your eye rolls through the screen, they'd be at once so dramatic and in unison. From there, there would be the loud, synchronized clicks of "Unfollow!" "Unfriend!" "Hide these updates, please!" and the under-breath mutters of "Lady, you have got to be kidding me."
It's easy to be skeptical of such a laborious suggestion in a recipe, but once you've tasted the results, you won't want to return to the slightly bumpy batches of hummus you were making before.
Perelman's suggestion for skinning the chickpeas is charmingly low-tech: Simply pick up a chickpea and squeeze it gently but firmly between your thumb and forefinger until the translucent skin buckles and the legume shoots out. Have a wide bowl at the ready to catch the flying chickpeas, and discard the skins. Repeat until all your chickpeas are unsheathed.
This takes a solid 10-20 minutes to do right, and it's a task so surgical that many home cooks balk at it. Thankfully, America's Test Kitchen, building on a tactic developed by chef Yotam Ottolenghi, has found a workaround that lets you skin several chickpeas at once, rather than going one by one through the batch. Watch ATK's walkthrough below:
While this process—toss chickpeas with baking soda, heat, rinse with water, and agitate—might ultimately save a few minutes (and some grip strength), I actually prefer Perelman's method of squeezing each chickpea, popping the skins off by hand. Why? Because I'm decidedly not the head chef of my household, and I prefer to handle the menial, unglamorous tasks that keep a kitchen running. Skinning chickpeas is a methodical, deeply relaxing task once you get into a groove with it, and it's the perfect bit of kitchen prep to handle with a buddy, chatting as you go.
Also, I hate doing extra dishes, and the ATK method requires slightly more cleanup. Sometimes all the innovation in the world can't compete with good old-fashioned laziness.
However you choose to go about it, though, it's a recipe you need in your life. If you haven't given skinned-chickpea hummus a try, consider this your prodding to make a batch this weekend. You'll hate it right up until you taste it.