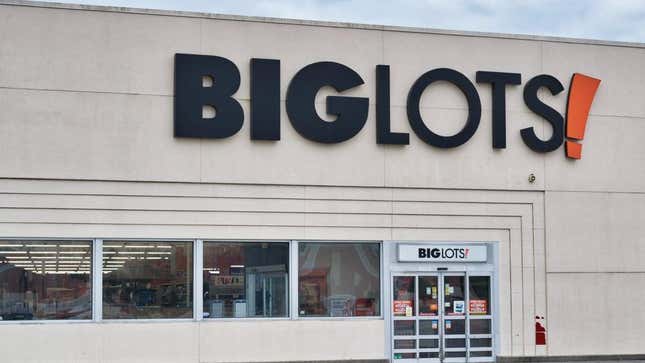 To the untrained eye, Big Lots might seem like a weird, yellowish warehouse that sells clocks and garden hoses, and it certainly is that—but this discount chain has a lot of great grocery finds, too.

If you've been to a Big Lots before, you've no doubt asked yourself, "What's that musty smell?" That's the smell of savings, friend. Big Lots doesn't blow you away with flashy products, sleek end cap displays, or signs indicating where the bathroom is. No, this place is all about utility, and if you can look past all the furniture for sale, this retailer has a ton of snacks and cooking essentials worth checking out. If you're smart, you'll walk out of Big Lots having stocked your pantry for next to nothing, with enough cash leftover to buy this weird lawn gnome car.
No judgment if you've written off Big Lots your whole life. I was once like you. I get my groceries from the grocery store, I used to say. But Big Lots isn't all gazebos, umbrellas, frog statues, and rugs. Here are nine foods you should be on the lookout for.