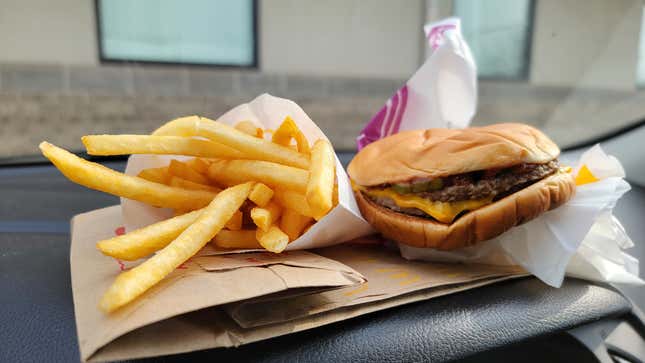 As food prices continue to rise, wobble, or otherwise vacillate, one aspect of the drive-thru experience has risen to icon status: the blessed, the merciful, the unparalleled Value Menu. Whether you're in the mood for a quick snack or a full meal for the price of two squeezes of the gas pump, these budget-conscious offerings are a hit with both the businesses (which enjoy selling cheap food) and consumers (who enjoy eating cheap food).
But which of the major chains offers the best bang for your buck? Over the past week or so, I sacrificed my digestive health in an attempt to find out. I started by setting a target price: the magical $5 mark. Why? Because it's a nice, straightforward number and Abraham Lincoln was a pretty great dude. But allowing for tax, we'll settle for five and change.
Next, the restaurant chains were judged on their lunch/dinner value menus. (I know McDonald's breakfast deals are incredible, but that's a separate discussion.) Then, I tried to focus on options with the largest national footprint. That takes several spots out of the running, including my beloved Taco John's, whose Grande Beef and Mini Fried Chicken Tacos are the best one-two punch in the game. Sadly, its limited national reach rules it out.
With all those caveats in mind, here are the top five options when you only want to spend $5.