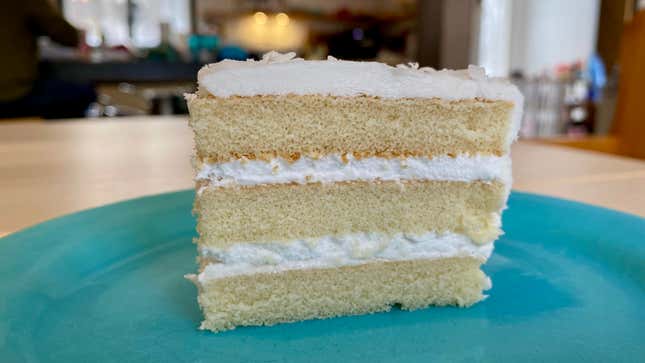 In a 2022 episode of food podcast The Sporkful, host Dan Pashman engaged in some time travel. The goal of this journey? To obtain a piece of historical coconut cake he'd been pining for. After listening to the episode, I did some coconut cake time traveling of my own, but I only had to go as far as my grocery store's freezer aisle, where I grabbed a true classic: Pepperidge Farm's Classic Coconut Layer Cake.
In the Sporkful episode, Pashman is trying right a wrong. Years ago, he dined at Patys Restaurant in Toluca Lake, California, and he passed up the opportunity to order a slice of coconut cake. He regretted it for years, and I can't blame him. It does look like a pretty killer cake.
Unsurprisingly, the podcast left me craving cake, but unlike Pashman, I wasn't able to travel to Toluca Lake, and I couldn't get to the Time Travel Mart to hop safely, the way Pashman did. But that was okay with me. No disrespect to the wonderful-looking cake at Patys (which I do hope to try someday), but I was able to do some time-hopping of my own by heading to the grocery store.
For $5.49, I purchased what I consider to be the most delicious coconut cake there is. And it is indeed ripped out of time, both in the way it tugs on the heartstrings and in the midcentury way it presents a fully assembled frozen dessert as a luxurious convenience.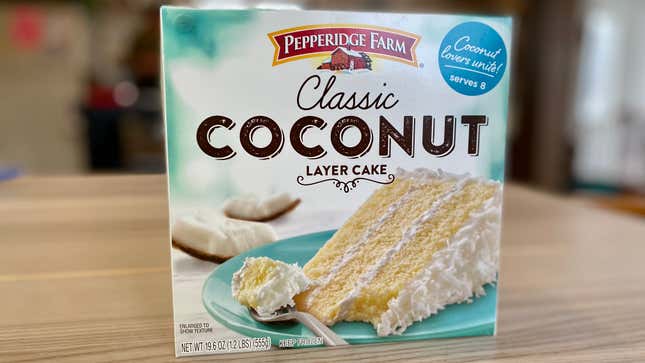 My grandmother used to serve this cake, and my mom did, too. In 2023, the cakes are still packaged like they always were, with the cake, sans plastic wrap, sitting on a styrofoam plate inside the box. In my family, it's served directly on said styrofoam plate.
Pepperidge Farm offers a range of other frozen square cakes, all of which come in the same ready-to-serve packaging. Flavors include a golden cake with chocolate frosting, a German chocolate cake, a yellow cake with lemon filling, a red velvet cake, and more. My grandmother did break out the golden cake with chocolate frosting from time to time, but nothing was as classic or oft-served as the coconut. It didn't resemble anything our family baked from scratch, and it was distinct from any of the other grocery offerings, too—Entemann's has plenty of cakes, but no coconut cake.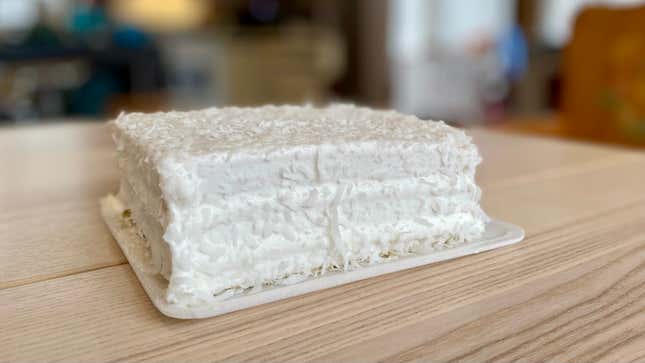 These frozen layer cakes joined the Pepperidge Farm family in the '60s. I personally began eating them in the '80s, and as of this week, my daughter began eating them in 2023. It has taken some time for me to fully embrace the fact that some of my family's food traditions involve mass-produced grocery items and fast food, rather than from-scratch recipes handed down through the generations. But I think I'm getting there. This cake is a part of my family's cookbook, as it were.
The Classic Coconut Layer Cake doesn't take long to thaw; after about a half hour on my counter, it was ready to be sliced. The cake is square—why aren't more cakes square?—and the package specifies that it can serve eight people. It certainly can if you cut it right, and Pepperidge Farm includes instructions right on the box for slicing eight tidy triangles. I've always just cut it into rectangular slices, though the Pepperidge Farm method is fit for a dinner party.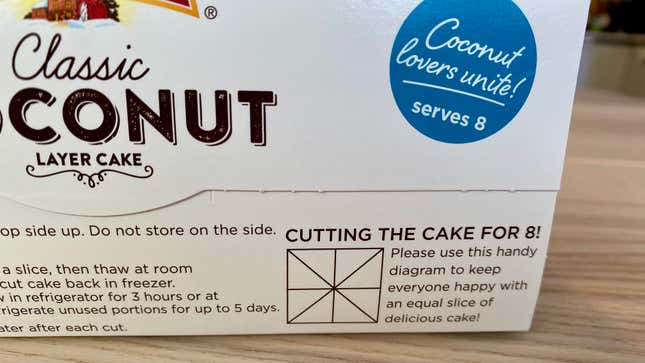 After thawing to room temp, the cake layers are light and airy. The frosting on top, to which the flaky coconut is stuck, is a very sweet buttercream, thicker than the frosting between the layers. I'm heartened to report from my recent experience eating this lovely cake that, like a multigenerational recipe, its flavor hasn't changed in my lifetime. The ratios, textures, and sweetness levels are engineered to achieve consistent perfection, and as such, I could eat Pepperidge Farm Classic Coconut Layer Cake every day and be happy.
Even if Pepperidge Farm has suggested you create modern mayhem by mashing it up to form cake pops, the company must know this cake is a classic that time shouldn't touch. Why else would it still be served on the same old styrofoam plate my grandmother served it from? At $5.49, time travel has never been more affordable, and I plan to pay the fare again soon.