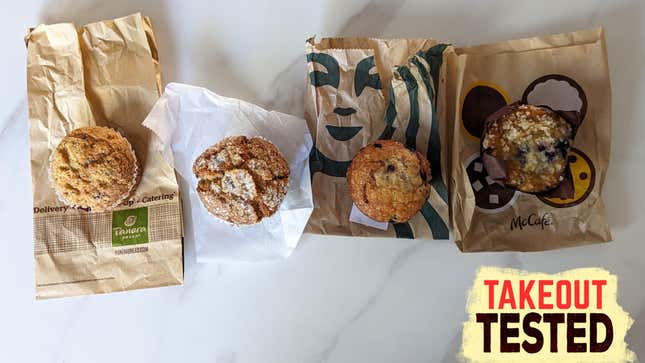 One of the greatest things about being an adult is being able to do what you want. That includes eating cake for breakfast. Essentially, that's what American quickbread muffins are: unfrosted, sugar-crusted, oversized cupcakes hiding under the fruit-filled guise of not-cake. And I'm not mad at it. Especially when someone else makes it well and fresh, in America's favorite flavor, and lets you buy one at a time until closing time.
However, not all blueberry muffins are created equal, particularly when you consider that most cafes, both small boutiques and large chains, don't bake them on site. Sure, this makes them consistent from store to store, but not from one chain to another, and it can be hard to gauge which chain can get you the best breakfast cake fix. That's where this girl comes in.
What Makes a Great Blueberry Muffin?
Most blueberry muffins are pretty good, because, again, cake. But a mediocre muffin is truly sad. You know it when you have it: the batter is bland, or so sweet it makes your tongue shrivel up. Maybe the blueberries are small and wizened or too young and tart. Some are heavy and dense, others overly spongy. Sometimes the precious muffin tops are soggy from being packaged while still steaming, or collapsed, or overbaked and hard. Worst of all, sometimes the crumb is too open and it dries out and you lose half of it to the muffin tin liner.
As you can see, a perfect blueberry muffin boils down to one simple element: balance.
With that in mind, armed with the palate cleanser of a very strong, very large, milk-splashed unsweetened iced coffee, I hit up four national chains with blueberry muffins on the menu to report back: Who's bluffin' with their muffin?