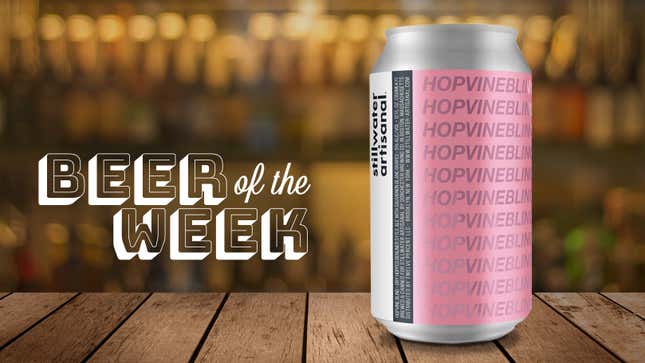 "Sour beers are a great crossover for wine drinkers" is by now a beer-world cliché, but it can certainly be true in specific cases. Stillwater Artisanal's eye-catching Hopvine Bling—a dry-hopped Berliner weisse-style beer with sauvignon blanc grapes—is one of those cases. I am aware that the sentence above has a lot of weird beer words, so let's break them down.
All the Best Finds at the Sweets & Snacks Expo
A Berliner weisse is a traditional German beer style native to... If you guessed "Berlin," you get a prize. (It's a virtual high five from me.) Napoleon's troops in the beginning of the 19th century reportedly referred to Berliner weisse as "the Champagne of the North" for its zippy, effervescent character. The beer style went defunct for a while but has been revived in the past decade by craft brewers including Baltimore- and NYC-based Stillwater and others. It's an easy-drinking beer style, light on the palate with a wheat base that gives it a lemonlike tartness. If you like other German wheat beers—hefeweizen, etc.—Berliner weisses might be up your alley. Make sure you're prepared for a bit of tartness, too, because the lactic acid that's characteristic of Berliner weisses gives them a signature tang reminiscent of lemon or lime zest.
In Hopvine Bling, that tartness is paired with the aromas and flavors of sauvignon blanc grape juice and two varieties of hops. Australian hops are often described as having a white wine character, and those come through courtesy of the Nelson Sauvin hops used here. (The other hop used is a German variety called Hallertau Blanc, which I pick up in the aroma as a clear lemongrass note.) The hops—and the actual sauvignon blanc grapes—combine for a very vinous aroma of lime zest, vinho verde, and jasmine. It's fresh, springy, and you might be able to convince someone it's wine if they had their eyes closed.
The flavor also delivers on the aroma's white wine promise, starting with lime zest and kiwi. There's a good wheat cushion underneath, though, so though the sip packs a tart punch, it's not scraping your tongue clean. A second sip reveals further fruit flavors including green apple and underripe peaches, a sweet-tart combo that works with the sauv blanc grapes to create a sangrialike vibe. On a hot spring day, this beer would be a backyard banger.
Oh, and speaking of bangers, yes, this beer's name is a reference to Drake's 2016 hit "Hotline Bling." Solo dancing while drinking this beer is encouraged, though not required.
Where to get it
Stillwater beers are available in 38 states and some international locations; get more information here.
---
Have a beer you think should we should consider for inclusion in an upcoming Beer of the Week column? Email details to beer@thetakeout.com.