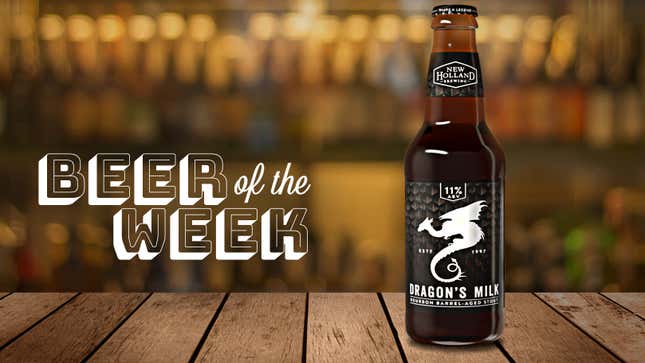 Imagine how avant-garde a bourbon barrel-aged stout must have seemed in 1997. It's hard for me—someone whose graduation to legal drinking age coincided with the height of the craft-beer boom—to wrap my head around. Seemingly every brewery tour I've gone on culminates in the brewer's grand, sweeping gesture toward their barrels: "And this is our barrel-aging program." (It was always a program, even if it just consisted of five barrels shoved in a corner.)
We Taste Kazbars, the New Hostess Snack Cake With Crunch
So while I know that Dragon's Milk, a bourbon barrel-aged stout from Holland, Michigan's New Holland Brewing, was one of the seminal beers of the barrel-aged beer movement, it had admittedly been a while since I'd had one. What prompted me to revisit the classic was its branding refresh, which gives it a sleeker, more contemporary, less Halloween-looking vibe.
What I wanted to know was: Is this veteran stout still relevant, still apt to turn heads at a time when even your corner Tom, Dick & Harry Brewpub makes a barrel-aged stout?
After reappraising this beer, I can answer: Yes.
That doesn't mean it's my favorite example of the style. The barrel character comes through loud and clear. If other stouts weave their whiskey and oak character in like supporting vocals, this is a screaming, a cappella solo. That's good news if you're the type of barrel-aged beer drinker who wants to practically taste the whiskey itself; if you prefer a more subtle barrel-aged character (like I do), it may come off a bit overwhelming.
G/O Media may get a commission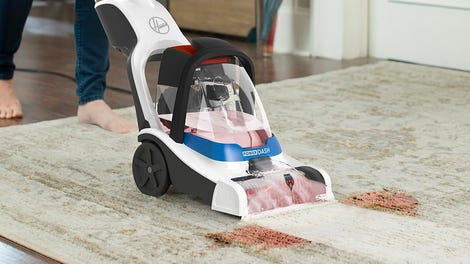 26% Off
Hoover PowerDash Pet Compact Carpet Cleaner
Aromatically, the wet whiskey barrel notes are well incorporated with tons of dark red fruit: dried cranberries, black cherries, and a bit of a Dr. Pepper/cola note. Cocoa powder and malted milk ball aromas back it up, creating an overall pleasing nose.
It's on the tongue that the whiskey really lets loose: cherry-cola sweetness starts the sip, while roasted malt depth and dark chocolate flavors don't arrive until the swallow. I get the impression I've just chased a whiskey shot with stout, and am left wishing for more chocolate or coffee flavors upfront to cushion that assertive barrel character. There's a noticeable warming on the throat, too, as the liquid goes down, a sign of its 11 percent ABV. A prickly, rye-like spiciness at the back of the tongue persists after the creamy sip is long gone.
This beer is worth your time, if only so you can argue with me about how much of the spotlight the whiskey barrel should command in a whiskey barrel-aged beer. Oh, and if you've aged multiple years of Dragon's Milk stout in your cellar, I want to know what happens to it after a couple of years—drop your knowledge in the comments, please.
Where to get it
Dragon's Milk is currently available in 38 states on a year-round basis; check nearby availability with New Holland's beer-finder tool.
---
Have a beer you think should we should consider for inclusion in an upcoming Beer Of The Week column? Email details to beer@thetakeout.com.