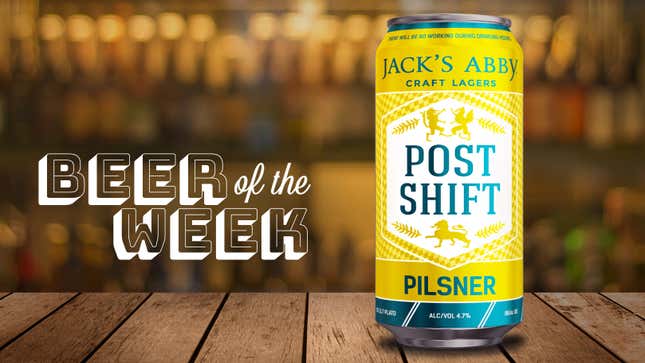 Despite my proclamation that craft lagers are certifiably a big deal, I realize we've been devoting an awful lot of newsprint pixels to IPAs and haze and hops recently. Let's swing the pendulum back to a lighter, more malt-focused style, shall we? While drinking this Framingham, Massachusetts-brewed Post Shift pilsner the other day, I realized it's a nearly perfect package: complex enough for beer nerds to enjoy, but easy-drinking enough to satisfy a football-watching crowd—just the kind of beer you should always have on hand.

All the Best Finds at the Sweets & Snacks Expo
I'm not surprised to find myself recommending a Jack's Abby beer; the brewery has focused on primarily German-style lagers since it opened in 2011. (It now has a division, Springdale Beers, devoted to styles outside that realm, too.) But lagers are what it does best, and that's because its brewers do them right: using German malts and hops, and employing time-intensive techniques like decoction mashing.
TL;DR—the brewers don't cut corners.
And you can taste that attention to detail in this German-style pilsner. A discerning drinker will be able to appreciate the Bavarian malt and hops used to brew it, while everyone else will just think "Oh, this is easy to drink, but actually has flavor." Bingo—that's what a perfect pilsner should be.
I don't want to sound like a snot, but I've come to the point in my beer-drinking life where I don't want to drink your German pils if it's not brewed with German malts. In Post Shift, they impart an elegant, honey-graham aroma that wafts off the picture-perfect, straw-colored pour. On the tongue, the malts are still lightly honey-sweet, but with a pleasant crusty-baguette breadiness as well. Proper noble hops translate as oregano and parsley, with a touch of dried leaves as well. Or maybe that's just they reminded me of as I looked out my kitchen window to the aspen leaves bronzing a shade more yellow each day.
Fall is the right time to get acquainted with Post Shift, if you're not already. As the name implies, it's a great after-work beer, all the more so on days when the weather's warm during day hours but fades to cooler nights. This beer deftly straddles those liminal temperatures: refreshing during the warm days, with still enough malt structure to spend some time with in the evenings.
This beer apparently also makes me wax poetic, which I can't say for every run-of-the-mill pilsner rushed through fermentation and made of nondescript two-row barley. Sorry, I got pilsnerdy again.
Where to get it
Jack's Abby distributes to Maine, Vermont, New Hampshire, Massachusetts, Rhode Island, Connecticut, Eastern Pennsylvania, and New York.
---
Have a beer you think should we should consider for inclusion in an upcoming Beer Of The Week column? Email details to beer@thetakeout.com.