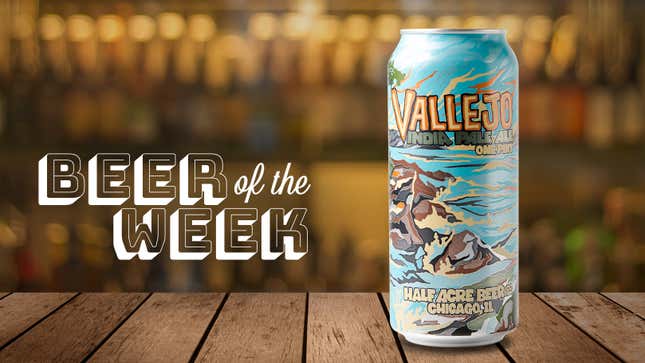 One of my favorite hop-derived flavors is fresh white onions or chives. I know this isn't everyone's cup of tea, but when I can find that flavor alongside some Mosaic- or Citra-hop mango and tropical fruit notes, I do the chef's kiss move. That combo reminds me of mango salsa, with the heady fruit notes playing alongside earthy onion and maybe even some zesty cilantro or parsley notes, all of which can come from these magic little flowers known as hops. (Yep, hop cones are technically the flower of the hop bine. The more you know!)
All the Best Finds at the Sweets & Snacks Expo
So I found my happy place in a glass of Vallejo, an IPA from Chicago's Half Acre available—appropriately—in the spring and summer months. This beer screams spring to me, with an overall impression of green shoots growing, of just-underripe fruit, of new grass. I've enjoyed this beer before, but I tasted it again most recently on one of the first true warm days of spring, the kind of day when you drag your dusty shorts and flip-flops out from the back of the closet even though it's only about 60 degrees.
This IPA's aroma doles out tons of chardonnay grape at first, so much so that I'd believe you if you said it had some grape must added. Beneath that, there's lemongrass, aforementioned white onion, and lime zest. It reads together as citrusy-tropical, but grounded by an earthy, dank note like pineapple-y weed. It's obviously using some fancy new hops, but not to the point where it smells like an Odwalla. I'm reminded this is still a beer, not my morning smoothie.
The flavor veers more toward the fruity-earthy than the aroma, with dominant notes of mango skin, green pineapple, and sweet tomatillo. There's just enough malt sweetness to tie the room together, but hops are of course the star. The bitterness level is right in the sweet spot for me: squeaky-clean and super dry, but not a wallop of tongue-lashing bitterness. The so-called New England IPA craze has unfortunately convinced some drinkers that we can just disregard bitterness—or lack thereof—in IPAs, but I miss it when it's not there. A moderate level of hop bitterness closes the swallow, lowers the curtain, and makes you want another sip. Done right, it's a soft fade, not an anvil drop. That's what I get at Vallejo's finale: clean, just-right bitterness that makes me thirsty for another glass.
Where to get it
Half Acre beers are available throughout Illinois, the south-eastern portion of Wisconsin, and in Philadelphia and New York City.
---
Have a beer you think should we should consider for inclusion in an upcoming Beer of the Week column? Email details to beer@thetakeout.com.