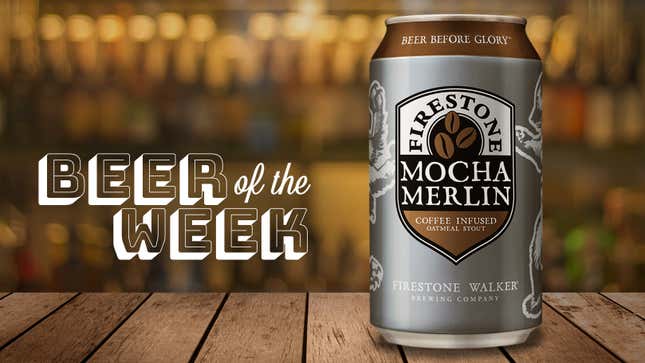 Demand for new beers—"innovation," in industry speak—has lately reached a fever pitch. To placate the thirsty masses, smart breweries have found a shortcut: Take a beer people already like and add new flavors. Boom. Innovation.

How To Dispose Of Cooking Grease The Easy Way After Frying
Within this sea of one-offs, Firestone Walker's recently debuted Mocha Merlin stands out as a rare riff whose additions are no mere novelty. HoneyCo Coffee Roasters' La Granadilla Colombian blend and unsweetened Ghanaian cocoa nibs lend a deep, chocolate-covered espresso bean flavor that melds superbly with the underlying stout. It's a beer that does credit to its additions, absorbing the chocolate and coffee without losing the roasty nuance of its supporting beer. Unlike other chocolate-spiked doodads, Mocha Merlin is a solid candidate to become a winter fridge staple.
That starts, of course, with a stellar base beer. Standard Velvet Merlin, an oatmeal stout, could have worked here, but swapping it for a milk stout version of Merlin was a wise brewing choice. The milk stout's lactose gives a cushion of richness and a touch of sugar, creating nearly a hazelnut creamer effect after the swallow. An easy 5.5 percent ABV and dry, mild finish make this beer an accessible, everyday indulgence; packaging in six-packs of cans encourages this, too. Find it on draft as well as in cans across all Firestone-Walker markets.
You espresso junkies and stout obsessives shouldn't wait to give Mocha Merlin a taste, as it's only a seasonal release available through early 2018. Then, as the innovation wheel churns, it's on to the next new hotness.
---
Have a beer you think should we should consider for inclusion in an upcoming Beer of the Week column? Email details to beer@thetakeout.com.