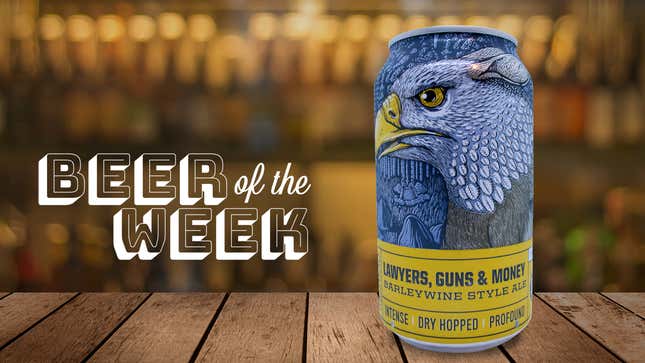 Oh, barleywines. These big, brawny, probably-not-for-beginners beers have been known to cause shit to hit the fan. That's why I was stoked to see Lawyers, Guns & Money barleywine from Denver's Crazy Mountain Brewing for sale in a responsible, single-serve 12-ounce can at my local bottle shop.

All the Best Finds at the Sweets & Snacks Expo
Normally barleywines are packaged in 750mL bottles that discourage me from opening them unless I'm having five other people over. But the time I really want a barleywine is when I'm snowed in on a random Friday night, bundled in sweatpants, and not planning to do much besides blow through my Netflix queue.
So, why should you try barleywines? They have a cultish reputation in the beer-dork world because they're so potent and flavorful; this one clocks in at 10 percent ABV and gains some extra oomph from the inclusion of molasses in its recipe. American barleywines—which are based on the English style but with more hops—turn the dial up on everything: lots of malt, lots of hops, elevated alcohol content. If you like double IPAs, this is the next step up in terms of intensity.
While some barleywines are not quite beauty queens—to put it politely—Lawyers, Gun & Money displays good clarity and a creamy, taupe-colored head atop the light amber pour. The malt half of the equation dominates its aromas, giving off caramel, overripe plum, and brioche French toast notes. On the quiet side, hops lean citrusy and floral, giving an orange marmalade or orange blossom note with just a touch of mint at the edges.
But in the flavor, malt and hops are evenly balanced. Malts pave the way with a neutral French toast breadiness accented by honey sweetness. Hops quickly swoop in with an orange-pith punch that syncs up with the malts' golden raisin flavors. The beer's body isn't as chewy as some barleywines I've had; substantial hop bitterness and the alcohol's spice wipe the palate clean nicely. It's not as though it has a lager's crispness, but there's a succinct punctuation to the end of the sip.
A quick cautionary note: Crazy Mountain's website recommends this beer be paired with a 12.5-mile climb up the 14,000-foot Mount Of The Holy Cross. While I think a beer-hike pairing is very cool, I cannot in good conscience suggest you drink a 10-percent beer and ascend a giant mountain. Maybe drink it and climb up your basement stairs.
Where to get it
Recent news that Crazy Mountain closed its Edwards, Colorado location bummed me out, but according to this Westword report, the brewery looks to reopen its production facility elsewhere. Hopefully that won't impact availability for this beer, which is found easily in Colorado and is distributed to 21 other states.
---
Have a beer you think should we should consider for inclusion in an upcoming Beer Of The Week column? Email details to beer@thetakeout.com.