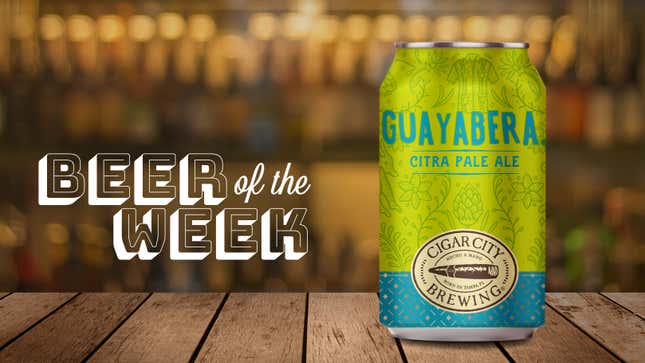 The first time I visited Tampa's Cigar City Brewing was about 10 years ago. The brewery had only been open a few years, and it was undeniably modest in size. (A lot of the bottling process still happened by hand.) But I had heard great things from in-the-know beer friends, so on a trip to visit my aunt and Oma on Florida's Gulf Coast, I dragged them on a brewery tour.

How To Dispose Of Cooking Grease The Easy Way After Frying
Oh, you've never taken your 75-year-old grandma on a brewery tour? I highly recommend it. I thought Oma was lost as a brewer explained fermentation tanks and barrel-aging, but once he started talking about hops, Oma's eyes lit up. "In Bavaria, hops grew everywhere! We had hops growing up the back of our house. In the fall, we'd head out there to pick them off the plants…" She dominated the rest of the tour.
I share this anecdote mostly to prove that my Oma is awesome (you already knew that), but also to contrast just how different today's Cigar City is from the tiny brewery I visited. Thanks to its popular Jai Alai IPA and Hunahpu's Imperial Stout (which spawned the Hunahpu's Day festival), Cigar City is now one of the best-loved breweries south of the Mason-Dixon. In 2016, Cigar City joined CANarchy, a collective beer alliance that allows breweries to band together for marketing or ingredients-buying purposes while still maintaining themselves as independent businesses. (CANarchy also includes Oskar Blues, Deep Ellum, Perrin, Squatters, and Wasatch breweries.) Thanks to that partnership, Cigar City fans no longer have to go to Florida like I did to get their hands on the beer; Cigar City distributes to dozens of states and is even part of a mixed-pack of beers that includes cans from the other CANarchy partners.
I knew Jai Alai was Cigar City's most popular offering, but I did not realize that a relatively new beer had quietly crept into the number-two spot: Guayabera Pale Ale. I hadn't even had this beer until last week; now, I see why it's garnered such broad appeal. It's entirely a Citra-hop showcase, so if you love that hop's bright citrus and melon notes, you'll absolutely dig this beer. The cloudy, light-orange pour launches tangerine, mango, honeydew, and yellow Starburst aromas right off the head. (This would be one hell of a beer to kick off patio season.) Subdued malts contribute a Hawaiian-roll sweetness to the sip, but mostly get out of the way so the hops' melon rind, underripe strawberry, lime, and lemonade flavors can take the reins. This beer is tropical for sure, and lightly sweet, but it finishes with enough citrus-pith bitterness to put a punctuation mark on the sip.
Like its namesake article of clothing, this beer is breezy, easy, and summer-suited. Cigar City has come a long way, and the best part is that its tasty beers are available to more people than ever. Oma is still a fan.
Where to get it
Cigar City Guayabera is available year-round across the brewery's distribution footprint, which encompasses 27 states. Search for it using the beer-finder tool here.
---
Have a beer you think should we should consider for inclusion in an upcoming Beer Of The Week column? Email details to beer@thetakeout.com.