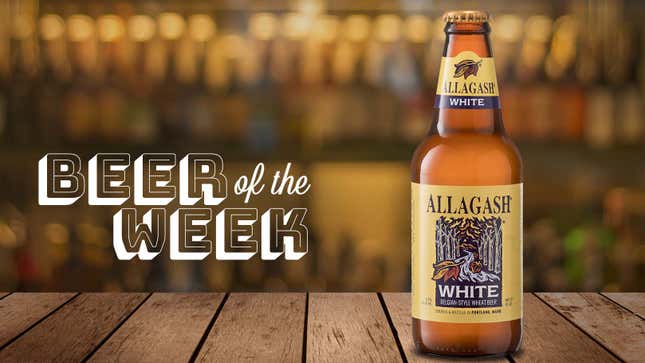 When someone admits to me they've never tried Allagash White, I flash back to a Jack Black scene from High Fidelity: "That is perverse. Don't tell anybody you don't own fucking Blonde On Blonde."
How To Dispose Of Cooking Grease The Easy Way After Frying
While I am staunchly anti-beer snobbery and anti-oneupsmanship, this really is one of those beers that you need to drink in your lifetime. Preferably once a week. Maybe as often as possible. I'm almost jealous of the people who get to try White for the first time, because that experience for me is long in the rearview.
Portland, Maine's Allagash Brewing has brewed White, its interpretation of a Belgian witbier, since 1995. How many beers are relevant, delicious, and widely loved for 20-plus years? Not many. Plenty of beer fans and brewers name Allagash White as one of their "gateway beers," a beer you try early in your drinking experience that hooks you. It was a formative beer for me when I was at the end of my college career and just discovering this new magical world of Belgian beers.
But unlike the formidable Chimay Blues and Rochefort 10s of the world, Allagash White is super easy to drink. It's light, effervescent, wheat-forward and low in alcohol, just like Blue Moon, a MillerCoors-brewed beer of the same style that launched the same year White was first brewed. There are similarities between the two beers, but on a desert island, give me White all the way.
It's somehow more refined than other Belgian witbiers, maintaining a lightness of body and flavor that's not too sweet or syrupy. Its aroma of subtle clove (from the yeast), coriander (from added coriander), and lemony brightness (from the wheat) are fresh and inviting; the flavor steers right down the center of the Belgian witbier road with pillowy grains, a zippy squeeze of lemon, restrained orange peel, and delicate, fine bubbles that clean up the sip. Despite the lemon and orange flavors, the swallow finishes fairly dry and clean, leaving just a touch of citrus behind.
In trying to think of the occasions or contexts in which I'd recommend you drink this beer, I struggled instead to think of occasions on which you wouldn't drink this beer. It's fantastic as a sessionable afternoon-drinking beer, at just 5.2 percent alcohol by volume. It's also great with food, adding some spice to the mix without overwhelming your tongue. And it's a wonderful beer to drink between tasting hoppier or barrel-aged or boozier beers; I love it as a break for my palate during beer festivals or bottle-share parties.
I could go on and on about all the great summer afternoons I've spent with Allagash White—backyard parties, grill-outs, picnics—but I don't want to waste any more of your time that you could spend drinking this beer. Go, go, you have your marching orders. Just like Jack Black sighs at the end of that scene: "It's going to be okay."
Where to get it
Allagash distributes its beer to Maine, New Hampshire, Vermont, Massachusetts, Connecticut, Delaware, Rhode Island, New York, New Jersey, South Carolina, North Carolina, Georgia, California, Maryland, Virginia, Washington, D.C., Chicago, and Philadelphia.
---
Have a beer you think should we should consider for inclusion in an upcoming Beer Of The Week column? Email details to beer@thetakeout.com.