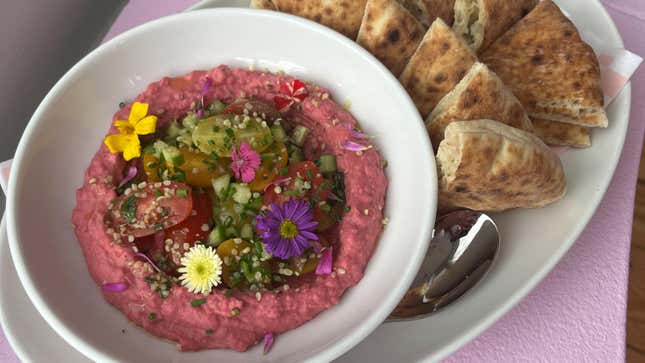 As someone who gets off on mentally manipulating people, I sometimes think I should be working in advertising. Covertly convincing the public to fork over their hard-earned cash is the fulfillment of my supervillain fantasy. And no recent marketing campaign has been more ubiquitous—or presumably successful—than that of the upcoming Barbie movie.
How To Dispose Of Cooking Grease The Easy Way After Frying
Brand strategist Moshe Isaacian recently took to Twitter to post a looooong thread highlighting the innumerable brand collabs promoting the Greta Gerwig–helmed Barbie film, in theaters July 21. Barbie might have a notoriously (and impossibly) slim figure, but many of these movie tie-ins are food-related.
All the Barbie foods you can eat this summer
Pinkberry, for one, is getting in on the action with a new promotional flavor: Barbie Land Berry Pink, a combination of strawberry and dragonfruit flavors. For the full effect, you can even top it with "Dream Sprinkles," which look just like regular sprinkles, but they're pink and white. How special! The famed froyo brand is also sponsoring a Barbie sweepstakes in which 10 lucky winners will receive Pinkberry gift cards and a bucket of Barbie swag.
Not to be outdone, Cold Stone Creamery is also releasing a collab—several, in fact. In addition to the promotional flavor, pink cotton candy (gross), Cold Stone will also be serving a promotional sundae called All That Glitters Is Pink. It's topped with graham cracker pie crust, whipped cream, and "Dance Party Sprinkles," which are sprinkles in pastel colors. Perhaps they're leftovers from Easter? 
Cold Stone is also releasing a promotional Barbie cake filled with the cotton candy ice cream and covered in white frosting and the pastel sprinkles. Just like Pinkberry, this chain is running a sweepstakes with very similar prizes. I guess Barbie really likes ice cream? (Or it's the easiest food to turn bright pink.)
The Malibu Barbie Cafe is also popping up in both New York and Chicago, serving up pink cocktails alongside traditional pub food wrapped in pink paper. One Instagram commenter wrote, "The grilled cheese almost sent me to the ER but the ambiance was excellent!" Sounds like a Barbie-themed version of The Heart Attack Grill.
If you're looking for something a little lighter, though, look no further than Swoon's sugar-free Barbie Pink Lemonade. And if you're more of a voyeur than someone who likes to partake in the food fun, you can watch the new Barbie-themed episode of Food Network's Summer Baking Championship, which sees the contestants tasked with preparing fruity pink desserts and "making toy cakes that look like they belong in the [Barbie] Dreamhouse Kitchen!
I suppose it makes sense that the Barbie movie has caused such a marketing frenzy. She is one of the most recognizable bits of IP in the whole world, after all. It'd be weird if the movie weren't being super-hyped. And if I'm going to eat a promotional ice cream sundae, I would much rather eat one inspired by Barbie than one inspired by Oppenheimer.