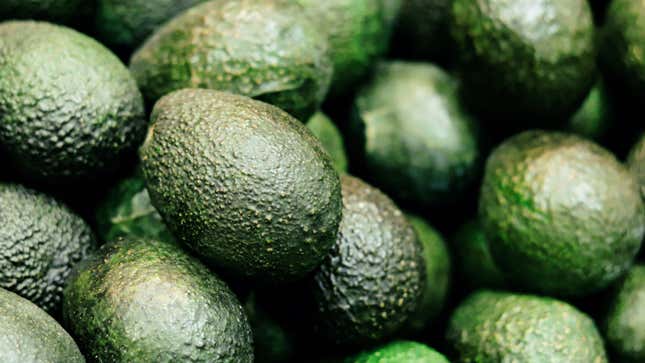 In only one of a string of spirited Twitter messages over the past few days (how do you know it's the weekend? Well…), the current president of the United States threatened to close the Mexican border in an attempt to keep "illegals" from trying to gain access to the U.S.

Slight wrinkle, as pointed out by Reuters: "Nearly half of all imported U.S. vegetables and 40 percent of imported fruit are grown in Mexico, according to the latest data from the United States Department Of Agriculture." So if the border did in fact close, the U.S. would run out of avocados, for example, within three weeks, says Steve Barnard, president and chief executive of Mission Produce, the world's largest distributor of avocados. "You couldn't pick a worse time of year because Mexico supplies virtually 100 percent of the avocados in the U.S. right now."
(I guess the question is what exactly constitutes "close the border?" As in physically you can't drive from San Diego to Tijuana? Or a more figurative trade border, where no goods could pass?)
Guessing the current president doesn't devote a ton of his time to thinking about adding produce to his diet, but that could really suck for fans of guacamole, toast toppings, and California rolls.
In even worse news for some, NPR reports that "More Than 750,000 Could Lose Food Stamps Under Trump Administration Proposal." Under this new proposal, the administration would stop food stamps after three months for recipients "who don't work, volunteer or get job training for at least 20 hours a week."
Happy Monday, everybody.