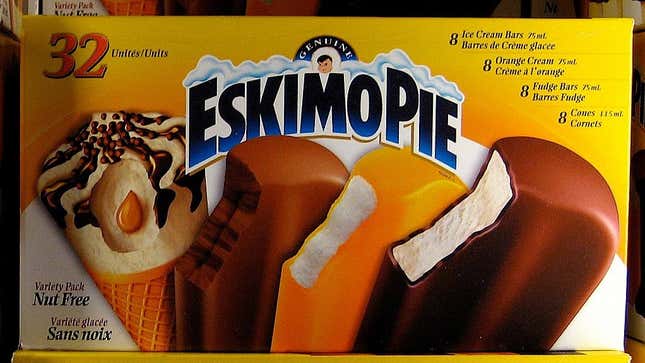 Update, October 6, 2020: Following its June statement in which it committed to change the name of its Eskimo Pie frozen treats (which the head of marketing acknowledged at the time as "derogatory"), Dreyer's Grand Ice Cream recently unveiled the new name it has chosen for the product going forward: Edy's Pie.
All the Best Finds at the Sweets & Snacks Expo
Like the transformation of Uncle Ben's rice to Ben's Original, the new Edy's Pie will also be removing its longtime logo from the box, which features a cartoon child wearing a fur coat. Industry publication Food Dive points out that this decision is one that can impact brand recognition on grocery store shelves; nonetheless, Dreyer's said back in June that it was "committed to being a part of the solution on racial equality," and this is the company's chance to walk the walk. In fact, it might even be a chance for the brand to do a total "refresh" and market the product to a whole new group of consumers. So keep an eye out for Edy's Pie heading into next year.
Update, June 22, 2020: Add Eskimo Pie to the list of products that are getting a name change. Dreyer's Grand Ice Cream announced Saturday that the 99-year-old ice cream bar will be getting a makeover. It wouldn't be the first in its history; the treat was originally known as an "I-Scream Bar" when it first appeared in 1921.
"We are committed to being a part of the solution on racial equality, and recognize the term is derogatory," Elizabell Marquez, head of marketing for parent company Dreyer's Grand Ice Cream, told CNN in a statement. The brand will be phased out by the end of the year.
The word "Eskimo" is considered derogatory to the Inuit and Yupik people of Alaska. According to researchers at the Alaska Native Language Center at the University of Alaska Fairbanks, "This name is considered derogatory in many other places because it was given by non-Inuit people and was said to mean 'eater of raw meat.' Linguists now believe that 'Eskimo' is derived from an Ojibwa word meaning 'to net snowshoes.'" (Or maybe it's from a French word. Either way.)
Some Yupik people of Alaska may refer to themselves as "Eskimos" because "Inuit" isn't a word in Yupik. (The word Inuit only applies to the Inupiat of northern Alaska, the Inuit of Canada, and the Kalaallit of Greenland.) However, like a certain other word, it shouldn't ever be used by outsiders. Or ice cream bars.
Update, June 18, 2020: When news broke yesterday that the Aunt Jemima brand and logo would be retired in favor of a new product name and design coming this October, many people's response was something along the lines of, "Great—now what about Uncle Ben?"
The origins of Uncle Ben, mascot of the Uncle Ben's line of rice products under Mars, Incorporated, are seemingly less steeped in controversy than those of the minstrel-show-inspired Aunt Jemima. The character, according to brand lore, was inspired by an actual Uncle Ben, a Texas rice grower known far and wide for producing rice of the highest yield and quality. However, as Vox notes, critics of the Uncle Ben character point to its roots in "the 'Uncle Tom' stereotype popular in the post-Reconstruction period, in which black men are depicted as obedient and subservient to white people and crave their validation."
On its website Wednesday, Mars released a statement promising to reevaluate the brand. "As we listen to the voices of consumers, especially in the Black community, and to the voices of our Associates worldwide, we recognize that now is the right time to evolve the Uncle Ben's brand, including its visual brand identity, which we will do," read the statement in part. "We don't yet know what the exact changes or timing will be, but we are evaluating all possibilities."
Similarly, ConAgra Brands, owner of Mrs. Butterworth's syrup, and B&G Foods, parent company of Cream of Wheat, have both announced they will conduct a review of their African American mascots to ensure that these images, in the words of B&G's statement, "do not inadvertently contribute to systemic racism."
Original post, June 17, 2020: As ongoing protests across the nation highlight the systemic injustice and racism that underpin American society, the Black Lives Matter movement has seen a growing number of major brands declare themselves allies. We've already seen some companies reckon with their own problematic branding, but now, the ultimate symbol of regressive advertising, the go-to example of "how is this still a thing?" in the American economy, is being retired: Aunt Jemima will soon be gone forever.

According to NBC News, Quaker Oats, owner of the Aunt Jemima brand, announced today that the Aunt Jemima line of pancake mixes and syrups will be renamed and given an entirely new image, in recognition of the fact that "Aunt Jemima's origins are based on a racial stereotype."
Since 1889, the brand has used an image of a Black woman as its mascot. The name and character of "Aunt Jemima" is derived from minstrel shows, as historian Riché Richardson explained in The New York Times, and the logo, as well as print advertisements, originally depicted the character in offensive stereotypical blackface. The company has often tried to layer a rosier brand history over the unvarnished true one; in fact, you can see the back-and-forth of competing narratives all over the Aunt Jemima Wikipedia page, as a historical note on the "mammy" archetype transitions sharply to the ingredient list of the original 1889 pancake mix.
But it's 2020, and though Quaker has taken half-measures to improve the Aunt Jemima branding over the years—such as remove her signature head kerchief in the most recent redesign—the foundations upon which the entire brand is built are simply unsalvageable. After 130 years of profiting from the stereotype, the company has finally accepted this reality.
"As we work to make progress toward racial equality through several initiatives, we also must take a hard look at our portfolio of brands and ensure they reflect our values and meet our consumers' expectations," said Quaker Foods North America in a press release. It has also announced it will donate $5 million over the next five years "to create meaningful, ongoing support and engagement in the Black community."
This popular line of syrups and pancake mixes will be renamed soon, and new packaging should be hitting shelves this October. (It will not be "Aunt Karen," despite what you read on Twitter.) Looks like it only took 130 years for a pancake company to acknowledge the harm that nostalgic depictions of slavery in a grocery store aisle can cause.