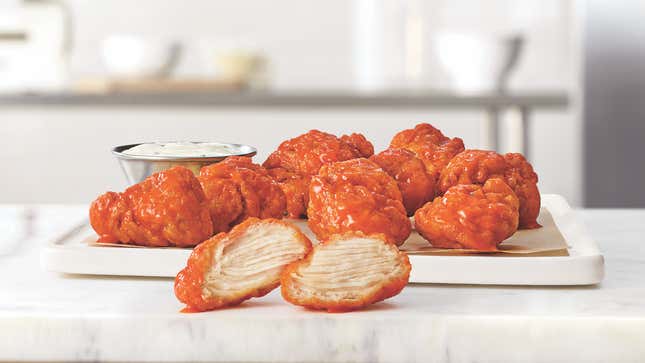 Arby's definitely has The Meats. The chain is known for its signature slow roasted roast beef, as well as its Angus beef. But soon, the Arby's meat lineup will include... boneless chicken wings. Alright, Arby's. Come on into the chicken zone. Everybody's doin' it.
Per a press release sent to The Takeout, Arby's is "bringing the Meats in a whole new way" with the introduction of boneless wings starting on Monday, October 25. The boneless wings are 100% white meat (boo), and freshly sauced and tossed to order. 
In terms of sauce, the wings are tossed in either Classic Buffalo or Hot Honey sauce. Per the release, the Classic Buffalo Sauce uses a cayenne pepper sauce base "combined with melted butter goodness to create a craveable fusion of a classic flavor with a kick of heat. " Meanwhile, the Hot Honey Sauce is made from a "mouth-watering blend of honey, lime and smoky flavors with a medley of peppers for just the right mix of sweet and heat."
Starting on Monday, customers can score a six-piece Boneless Wings meal with Arby's crinkle fries for five bucks. Interestingly, the wings are a limited-time offering, despite the nationwide shift to poultry that ostensibly began with the dawning of the chicken sandwich wars. It's clear that Arby's is trying to get in on the poultry parade, but it makes sense that the wings might be short-lived given the brand's emphasis on, uh, beef. Regardless, it's nice to see boneless wings on offer at a drive-thru chain. I'm not always in the mood to stroll into a WingStop, you know?
Oh, and if you're curious: according to an Arby's spokesperson, the chain has previously offered Boneless Wings in the past in select test markets, but this is the first time the menu item is available nationwide.