Anthony Bourdain has died. CNN, the network he worked for since 2013, reported that Bourdain was found dead Friday in his hotel room in Strasbourg, France, where he was filming an episode of his travel show Parts Unknown. Bourdain was discovered by his friend, chef Eric Ripert, a frequent cohort on his show. CNN reported the cause of death was suicide.

CNN released a statement:
It is with extraordinary sadness we can confirm the death of our friend and colleague, Anthony Bourdain. His love of great adventure, new friends, fine food and drink and the remarkable stories of the world made him a unique storyteller. His talents never ceased to amaze us and we will miss him very much. Our thoughts and prayers are with his daughter and family at this incredibly difficult time.
In 2000, Bourdain published a memoir (born from his 1999 The New Yorker story) that would flip public perception of restaurants. In Kitchen Confidential, Bourdain wrote—in vivid, lurid, page-turning style—of the intense and hazardous culture of working in restaurant kitchens, often manifesting itself in drug use and other self-destructing behavior. The book became a runaway hit, and Bourdain would parlay its success to a career in television—first with the Travel Channel and the highly acclaimed No Reservations, and since 2013, with CNN and Parts Unknown.
As a late-in-life father, Bourdain's "bad boy" image in recent years was replaced with a softer, more paternalistic version. His 2016 cookbook, Appetites, was written through the lens of cooking for his daughter, Ariane. Bourdain told The Takeout in 2016:
I guess my whole life, as much as I might have wanted a child for the reason that everybody wants one, I always recognized that at no point until I was 50 was I old enough or up to the job. I thought, you know what, I not only really want a child, but at this point, finally in my life, I think I'm up to the job and I'm the type of person who could do the job well and I'm financially prepared to look after a child.
G/O Media may get a commission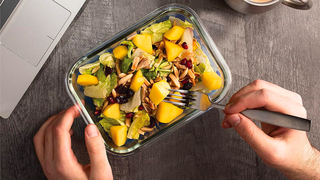 20% off
Superior Glass Round Meal Prep Containers - 6 pack
Bourdain was 61.