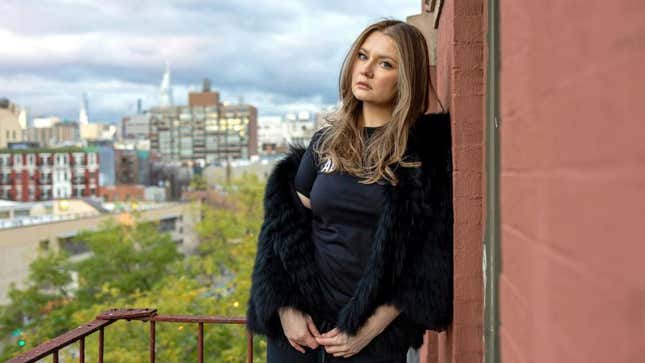 Around this time last year, limited series about scammers were all the rage on streaming services. There was WeCrashed, the Apple TV+ drama about Adam and Rebekah Neumann of WeWork. There was Hulu's The Dropout about disgraced Theranos founder Elizabeth Holmes. And although I was a vampire version of Holmes for Halloween last year, my favorite scammer series was Inventing Anna, the Netflix series that told the story of Anna "Delvey" Sorokin, who has been something of an icon in New York City for years.
How To Dispose Of Cooking Grease The Easy Way After Frying
If you're unfamiliar, here's the gist: Sorokin eased her way into Manhattan's high society throughout the 2010s, telling people she was a German heiress and throwing around money like it was candy. But here's the thing: She wasn't an heiress, and she didn't actually have any money. In fact, she got caught in 2017 after she skipped out on an $11,000 hotel bill. The New York Post dubbed her a "wannabe socialite." As a wannabe sociopath, I was enthralled. Honestly, I would've been her for Halloween if the accent weren't so difficult.
In Inventing Anna, Julia Garner does a fabulous job portraying the "Soho grifter." But now, it's Sorokin's turn to take the spotlight herself: Variety reports that Sorokin has landed a deal with production company Butternut for her own reality show, Delvey's Dinner Club. 
Sorokin, who is currently on house arrest after being released from ICE custody in 2022, will host "invitation-only, intimate dinners" in her East Village apartment. This time, she wants to tell her own story rather than let Shonda Rhimes do it.
While the concept may sound a bit random, Butternut's CEO, former Food Network president Courtney White, offered a sound explanation.
"It's often said the best way to get to know someone is to share a meal with them," White said. "We're all desperate to know who Anna really is."
To me, this new series sounds kind of like Cooking With Paris, except interesting. Who will Sorokin's dinner guests be? Per Variety, they will include "actors, musicians, founders, socialites, journalists, and other esteemed guests." But something tells me it's going to be like Madonna's recent video announcing her world tour. In the video (which broadly references her iconic 1991 documentary Truth or Dare), the Queen of Pop sits around a table with the most random group of celebrities anyone could possibly imagine—Amy Schumer, Jack Black, Eric Andre, and Lil Wayne, among others—and has a "party" at which no one seems comfortable. God, I hope Lil Wayne gets an invite to Anna's place.
The dinner parties might be invitation-only, but much like Sorokin, I'm not going to let that stop me. I know the East Village like the back of my hand, and upon seeing the Variety photo of Sorokin on her fire escape, I immediately clocked the intersection. I've been hitting the climbing gym; I'm very confident in my ability to scale a fire escape. Maybe I'll succeed in crashing the party. Or maybe I'll be taken away in handcuffs and the Post will label me a "wannabe socialite." Either way, it's a dream come true.