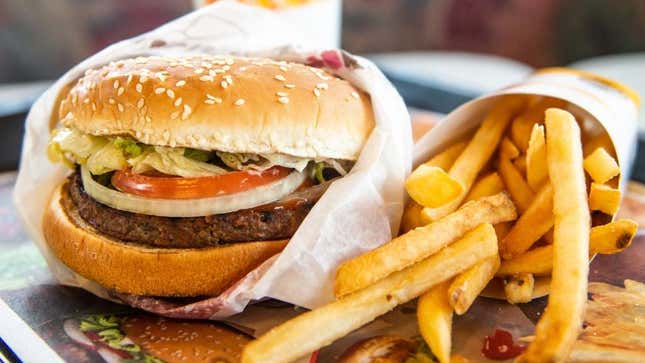 The world's first meat-free Burger King is slated to open next month in Cologne, Germany, for a limited time. From June 7 to June 11, customers will be able to eat some of their favorite BK items sans meat (no word on whether or not it's completely vegan, however), including nuggets, "chicken" sandwiches, and a plant-based Whopper. This news comes to us via VegNews.
All of the faux meat is made by The Vegetarian Butcher, a company Unilever acquired in 2018 that specializes in plant-based meat substitutes. Burger King Germany will also be debuting its newest plant-based item, a vegan version of the Long Chicken (best name ever), which will feature a meatless chicken patty with vegan mayo on a long sesame seed bun. If this sounds familiar, that's because it's the Original Chicken Sandwich on Burger King's menu stateside, just veganified. It's also called the Chicken Royale in other markets such as the UK.
The German Burger King menu already has vegan chicken nuggets made by The Vegetarian Butcher (introduced in September 2020). They're fried in a dedicated fryer for vegan products and come with vegan dipping sauces. There's also the vegan-patty Whopper, called the Rebel Whopper, not to be confused for the Impossible Whopper we have stateside—Impossible and The Vegetarian Butcher are two unrelated brands of non-meat.
While an entirely meat-free location is something new for Burger King, its vegan options are spreading to a number of global markets: the Whopper Vegetal has been introduced in Mexico, and the plant-based Whopper is offered in China. And our Canadian neighbors are finally able to give the Impossible Whopper a whirl after BK brought it north last month. It was the first chain to roll out an Impossible product across Canada. Plant-based burgers for all!